The Taylor Guitars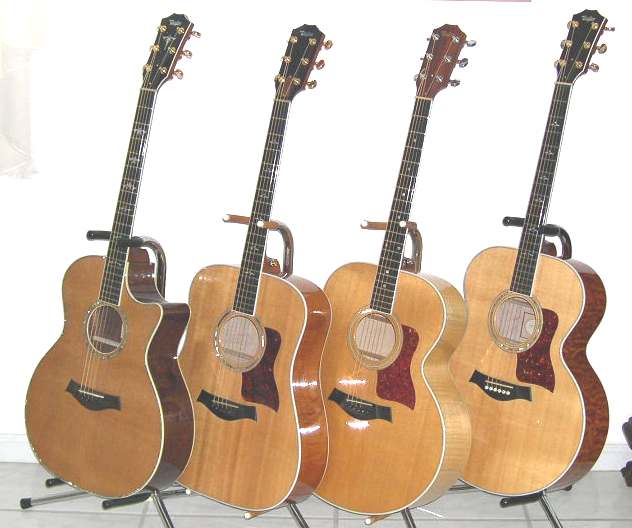 (some of) The Taylors
---
Welcome to Bozo's Taylor guitars web page... if this is not where you intended to go, please exercise the "Back" arrow to return from whence you came. Otherwise...

The first time I became aware of Taylor guitars was when I saw Verlon Thompson playing one (a 612) at Springfest in March of 2004. It had such clarity and separation of notes that I was immediately captivated. In talking with him later, he told me a little about Taylors and how easily they played - that was about it! After monitoring auctions for a while on eBay, I finally saw one that looked like "the one" (like the One Ring, for Tolkien fans), a 1999 W14C with the old style fretboard inlays and abalone inlay around the cedar top and soundhole. The sides and back are made from Claro walnut and it was in mint condition. It became my first Taylor, which I still have, and was immediately name, of course, Verlon. Then it was like an addiction (which coincided with my bout with pnemonia and long-term use of Prednisone to cure it). Whether the treatment had anything to do with the acquisition of the Taylors (and others) over the next two years, I have no idea; I only know that my desire for the Taylors was undeniable and uncontrollable. I ended up with more than a dozen of them, each with a personality and tone of its own. However, they all share the same playability and chiming highs that Taylor has become know for.
I am struggling with the best way to present the Taylors. Do I group them by model number, body style, body material or year of manufacture? Either one has its merits but leads to relationships to others not in that particular grouping... So, let's try year of manufacture within body style.
---
The Taylor Dreadnaughts
The dreadnaughts in my collection include 610s (2), an 810, a W10 and a pair of 25th Anniversary XXV-DRs. The 1995 610 (Mr. Biggins) was the first Taylor dreadnaught I bought and the second Taylor in my collection. The maple body creates a bright, cutting tone and attack; this is true regardless of the body style and carries across to the other maple-body models. The second 610 was made in 1997 and is, quite simply, a work of functional art. It features both sides and back (3-piece) of highly quilted maple and is simply stunning. Since its purchase I have added an under-saddle pickup though I'm not sure which I enjoy more, playing it or just sitting back and looking at it.
The Taylor 810-LTD was made in 1993 and features an Englemann spruce top and Indian rosewood back and sides. The action is extremely low and helps make it almost effortless to play.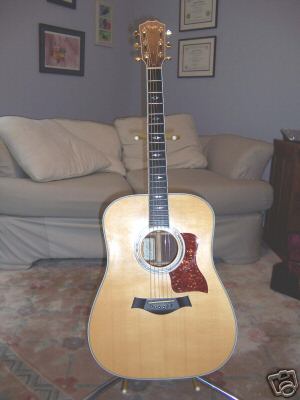 The Taylor W10 dreadnaught in my collection is one of the walnut-bodied guitars, a 1998 W10 with a dark, spruce top that you would swear was cedar rather than spruce. This guitar is in absolute mint condition and is another work of art. The abalone inlay on this guitar is extremely breathtaking and done in immaculate fashion. The tone is somewhere between mahogany and rosewood but, being virtually unplayed is still "tight" and has yet to open up. I'm looking forward in assisting this process in taking place.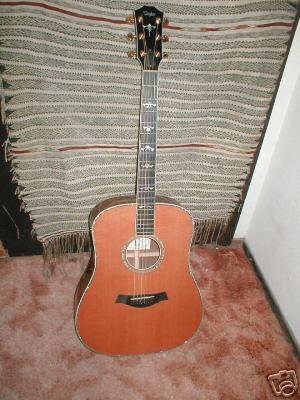 The final pair of dreadnaughts are both 25th Anniversary models which feature Sapele backs and sides and Sitka spruce tops. They have 1-11/16 inch nuts but the fretboard feels wider for some reason. There are no fret markers on the fretboard other than the XXV inlay (in 14K gold) at the higher frets. No pickguards are present on these and the binding is a cream color, rather than the standard white. The purfling around the sound hole is done in a variety of woods rather than abalone. The tone is huge. Only 500 of these were made, all in 2000.
---
The Taylor Grand Concerts
This group is comprised of a two examples, the 1999 Koa-bodied K22 and a 2014 712e 12-fret edgeburst. These are a few Taylors I own with the 1-3/4 inch nut, so favored by finger-style players. It takes a little adjustment for me but after a short period it feels very natural.
The 712e is a 12-fret model (the only one I own) and is my most recent addition to my collection. It features an "edgeburst" top and the ES-2 En-board Expression System electronics. The small body and shorter scale length makes this a great model for younger students while the wider fretboard gives plenty of room for the fingers.
As with many of the smaller-bodied Taylors, there is no pickguard affixed to the top of the K22 which is common on the Taylor fingerstyle models. This makes the K22 a fairly "plain" looking guitar with its simple headstock and fret marker designs and the dark wood top. The koa wood top itself produces a darker, more complex tone that either sitka or cedar as well.
---
The Taylor Grand Auditorium
This group is comprised of a single example, my first Taylor, the 1999 walnut-bodied W14C, "Verlon". This is the other Taylor I own with the 1-3/4 inch nut, so favored by finger-style players. This takes a little adjustment for me but after a short period it feels very natural. As with mostcedar top Taylors, there is no pickguard affixed to the top which really sets off the abalone trim. This is a stunning guitar which was in perfect condition when I bought it and remained that way until I dropped a capo into the case, causing a chip in the cutaway finish. Later, I managed to let the top close while I was removing the guitar from its case; this allowed the latch tougue to embed itself partly into the top, a flaw that was later repaired by Ross Teigan of Teigan guitars in Naples, Florida.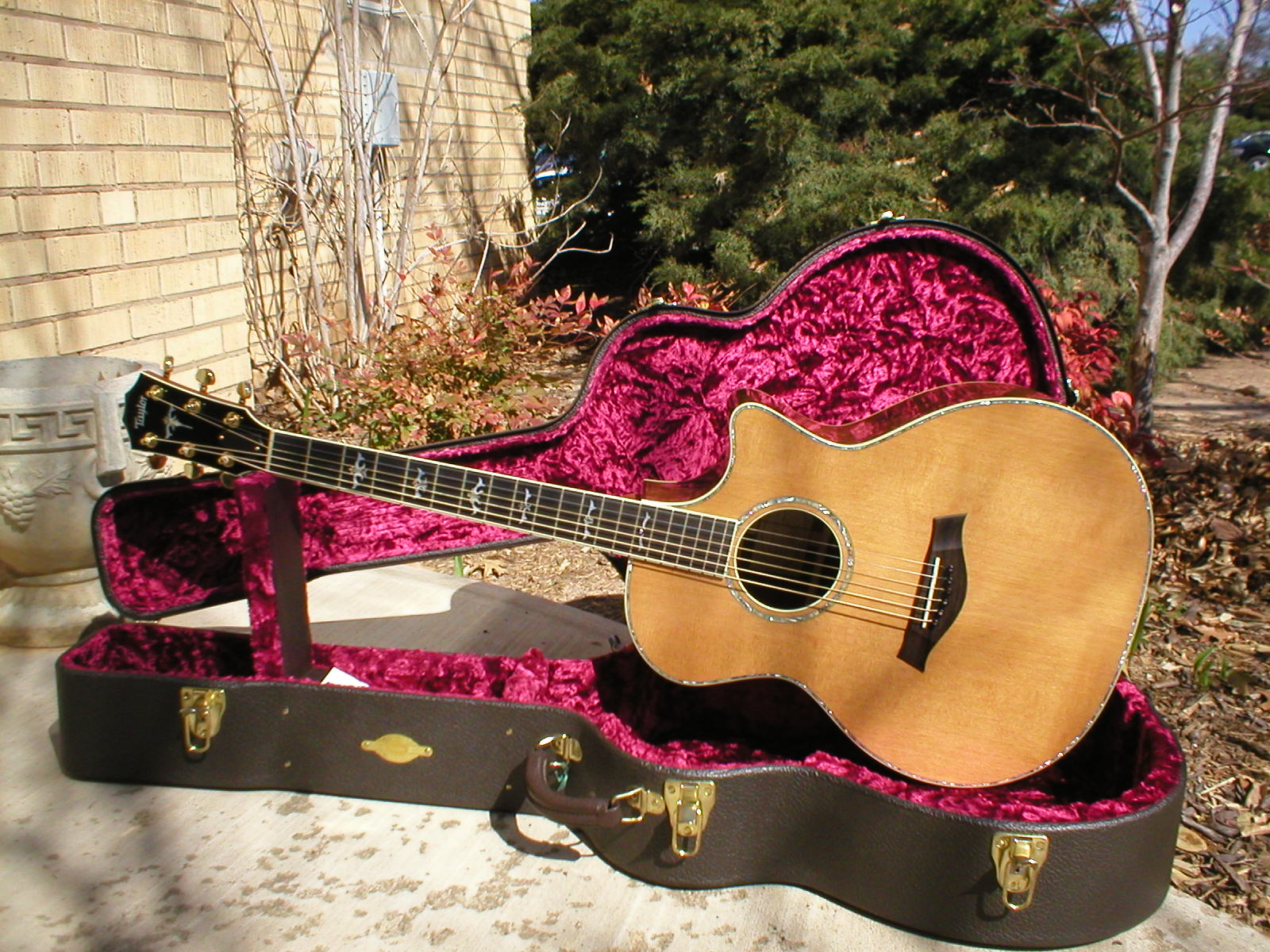 ---
The Taylor Jumbos
The Taylor Jumbo body style (x15), now discontinued except for the 12-string models, has become my favorite body style of all the Taylors. Normally thought of as the "cannon" of the body styles, it is as responsive to finger-style as any of the other models. All Jumbos have the 1-11/16 inch nut width which is narrower than that now favored by most finger-pickers but is well suited to my smaller hands. One advantage to the Jumbo is that, with the more exagerated waist, it is far less likely to move around when being played in a seated position. Also, the models from the late '70s feature a very slim, fast neck that feels very much like those on later Gibson ES-335s - just unbelievable!
My Taylor Jumbos consists of two 615s, one 815 and one W15. The older 615 (Blondie) is a 1987 model with the super-slim neck and was the first Jumbo model of any make in my collection; it has remained my main instrument for live playing. The second 615 is the 2000, "big sister" to the quilted 610 shown above. It is pure art with its highly figured back and sides and has a very punchy tone. The 815 is a 1988 model and also has the super-slim neck that I really like. I keep it tuned to DADGAD which sounds great with the 815's Indian rosewood back and sides. This guitar has been played a fair amount had has responded with a warm, deep tone with plenty of complex overtones. The 2003 W15 is the last of my walnut-bodied guitars and is one of my favorites. However, since it is mint condition, it does not get taken out for live performance much as they did not make that many of them and resplacing it would be very difficult.
---
The Taylor 12-Strings
Much of Taylor's original reputation was built by their 12-string guitars. Once Neil Young appeared with the Taylor 855 others (including Leo Kottke who had given up playing 12-string guitars at that point) took notice and tried them out - they can be set up to play almost as easy as a 6-string guitar! The earlier models have a slim neck profile (much like the Jumbos) while the later models have a more rounded neck profile but are just as easy to play. My collection includes two 655s and one 855. The earlier 655 is from 1990 and has the slimer neck design with dot inlays while the 2003 655 has the more rounded neck, a three-piece back, the standard 600-series fret markers and a slightly bigger sound. The 1992 855 remains the flagship of the Taylor 12-strings and my favorite as well.
That does it for my Taylor accoustic guitars, however, I did cave to my desires and buy one of their thinline electrics, described below...
---
The Taylor T5 Thinline Electric
This is simply a great guitar capable of producing great acoustic sound as well as smooth jazz tones and crunchy, gritty and distorted tones more associated with, dare I say it, Rock & Roll... However, it is one of the easiest electrics I have ever played and I'm dying to get moretime to spend with it once I get a more sound-proofed environment. Mine is a 2005 T5-C1 model which has the fancier fretmarkers and figured maple top finished in a tobacco sunburst.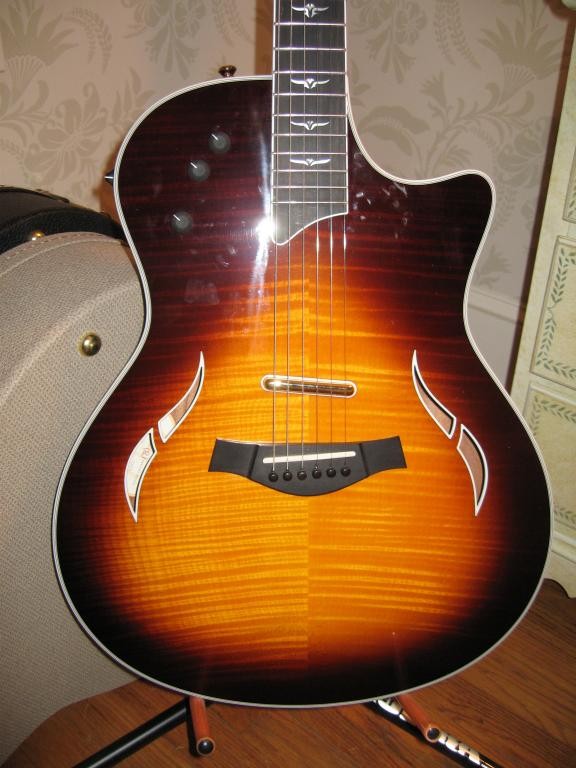 ---
So concludes the presentation of my Taylor guitar collection. It's not a huge collection but I like to think it represents some of the more interesting and historical models. Feel free to contact me with any questions and/or comments. *8o)


---
Send comments to: nobozos@citcom.net


Changes last made on: Saturday, May 2, 2015 at 8:19am