The Guild Guitars
---
Welcome to Bozo's Guild guitars web page... if this is not where you intended to go, please exercise the "Back" arrow to return from whence you came. Otherwise...

My first exposure to Guild guitars came in 1964 when I decided to trade in my Epiphone 12-string guitar on a better model. So three of my friends and I piled into the car and headed for Fort Lauderdale's Ace Music Store to see what was available. While I no longer recall the salesperson's name, I remember he took several minutes to ask me about what I was looking for in my new 12-string and, after hearing my responces, led me directly to the Guilds. Their amazing bass response and clarity hooked me immediately and I returned to Fort Myers that day with my brand new F-212 wrapped in my arms.
Since that day I have acquired several other Guilds for primarily the same reasons that I chose the 12-string - great bass response, low profile necks and great playability.
My next guild guitar wasn't acquired until 1978 when, while working in NYC, I decided I needed a guitar for the company apartment so I could play while sI was away from my home (and all of my guitars). So, while out on one of my treks through the music district, I came across a 1965 Guild M-20 "parlor" guitar. It was perfect for what I needed, small, light weight and not as loud as dreadnaughts or Jumbos. I kept it in the NYC apartment until summer when I took it back to NH with me so I could use it at Lake Winnepesaukee during weekend vacations with friends. While there one weekend, another friend of the owners of the cottage we were staying in came up to the lake and while sitting around playing and singing old folk songs, she said, "You know, I have a guitar just like that at home. I never play it - are you interested in having another one?". Is the Pope Catholic? Does a bear ... well, you get the picture. I came up with the older sister of my M-20, a 1963 Guild M-20.
It was almost 30 years until my next Guild guitar. It came after I discovered eBay as a source for used guitars. When I started looking at acoustic guitar auctions I saw an ad for a 1978 Guild D-35, which is a deep-bodied dreadnaught designed for bluegrass players and the like.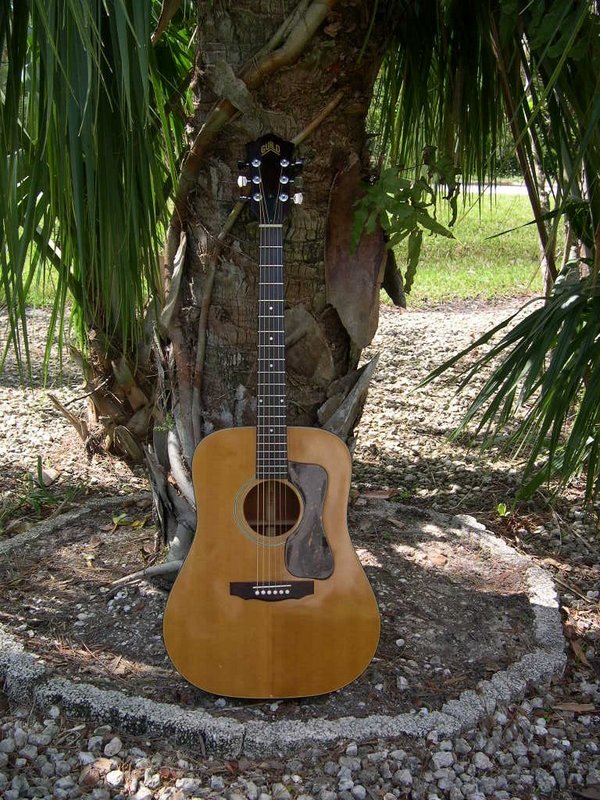 My final foray into the Guild guitar market was for a D55, the flagship model of Guild (or used to be). Again, eBay was the source of choice and I found a very nice 1997 Antique Sunburst D-55 for a reasonable price; it actually was in better condition than was advertised as it only showed light playing wear. Shortly after buying this example I bought a new (2004) D-55 from a NY dealer cheap due to there being finish cracks in the top gloss coat. After playing it for only a short time, I decided I didn't have the time to play it enough to get it to open up so it got put back into its case and then into the vault.
---
So concludes the tour of the Guild guitars currently in my collection. Hope you've enjoyed taking it as much as I've enjoyed reliving the acquisition and playing of these examples. Feel free to contact me with any questions or comments.

*8o)


---
Send comments to: nobozos@citcom.net


Changes last made on: Tuesday, March 11, 2009 at 10:23pm