---
On This Page: [Musical Interests] [Photography] [Publications]
---
DOES YOUR MOTHER KNOW YOU'RE HERE??
---
Welcome to Bozo's personal web page... if this is not where you intended to go, you still have time to get out now...

As you can see, this is a "work in progress" page so I hope you'll forgive the mess and stick around a while poking into my personal things (but don't touch me there...). I have provided some further "favorite" links in the lists below for your travels to give some insight into my interests and activities outside of a race car. Oh, some of those links might appear as well but, in general, most are non-automotive related.
---
Musical Interests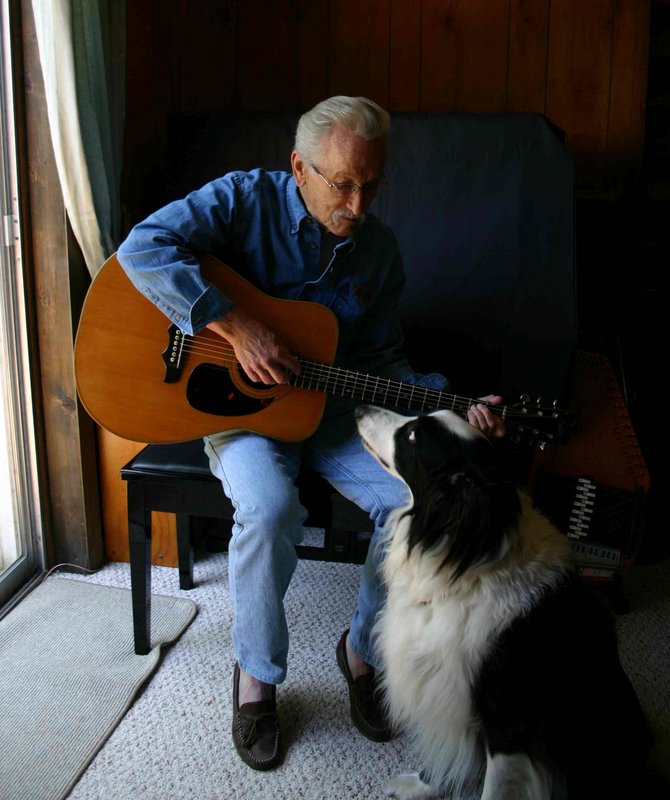 My musical interests vary from classical to blues, folk to rock, and alternative to oldies. Lately, I've become interested in modern bluegrass! (It's not your parent's bluegrass!) I have even written a tune or two that some might call Country (though I would put them more in the "talking blues" category...)! Please note the conspicuous absence of Rap! My nephews do enough of that style to fill the family quota...

There are far too many websites of interest to list them all here so I'll only list a few of my current favorites. This list will change as my interests shift and the mood strikes me to actually update this page.
Tim O'Brien's site is currently one of my favorites as he gives information on his instruments as well as the music produced with them. Bozo Podunavac is the maker of my current favorite guitar - a 1969 Bell Western model. He is still actively making acoustic instruments from his home shop in Florida and has welcomed Rocky and I there for a visit several Decembers ago. Taylor guitars is a close second - great, informative website. Although specifically about Taylor guitars, many of the videos give you insight into the different wood and their sounds as well as the art and challenges of guitar-making. The Museum of Musical Instruments is Scott Chinery's legacy to the guitar - simply unbelievable!!!
To date, I have only two CDs available, Half-Baked and Lightly-Toastedby the Blue Ridge Bakery Boys. This is a Brevard, NC group that plays a combination of folk, traditional and original tunes. The first CD was released in November of 2012 and is the first by the group; the second was released in December of 2014. I have four "solo" CD projects in the works (with no estimated dates of completion) that have the working titles of It Was Easier Back Then, Closet Musician, How I Got To Here - Volumes 1 & 2 and Daybreak. The associated liner notes for these efforts are works in process but will give you an idea of what the intended content for each will be. Stay tuned for more updates...
I have recently started to go through all my old reel-to-reel tapes to see what survived 28 years of storage in South Florida and I am happy to report that I must have done a great job of packing them up and sealing the tapes in their cases because they all seem to have survived the ordeal! I have so far extracted the first (actually second) two years of my annual "Rites Of Spring" music party to mp3 files by artist set and now have a dilemna. Since much of the material performed at these parties was original material I feel the need to obtain their permission to make any/all of the original material available. Keep watching this space for updates on that front...
In the mean time, for those who are interested, a brief discussion of my musical history is available for perusing and might have some items of interest/amusement. Those not recognizing the prior hot link can click here ...
I am still very involved in collecting vintage musical instruments, though many of the more recent acquisitions have been more current than many in my collection, and have also acquired several (or so) autoharps in various states of playability. My plan for retirement includes the modification and repair of autoharps, "as time permits". My guitar collection currently contains both electric and acoustic models ranging from the 30's to current models. Various makes and models are represented... However, the current "centerpiece" is my 1969 Bell Western six-string acoustic made by Bozo Podunavac; it's an unbelievably loud and resonant guitar and has aged well. It features maple binding, "rope" purfling, scalloped ivory nut and saddle and general craftsmanship you don't see much these days. This is the guitar that Leo Kottke, Peter Lang, John Fahey and Rev. Gary Davis helped make famous. Since this model wasn't produced until 1968, it is believed that this is one of the earliest models - I hope to reunite it with Bozo (only temporarily) sometime soon since he has retired (again) to Florida. These pictures don't do it justice...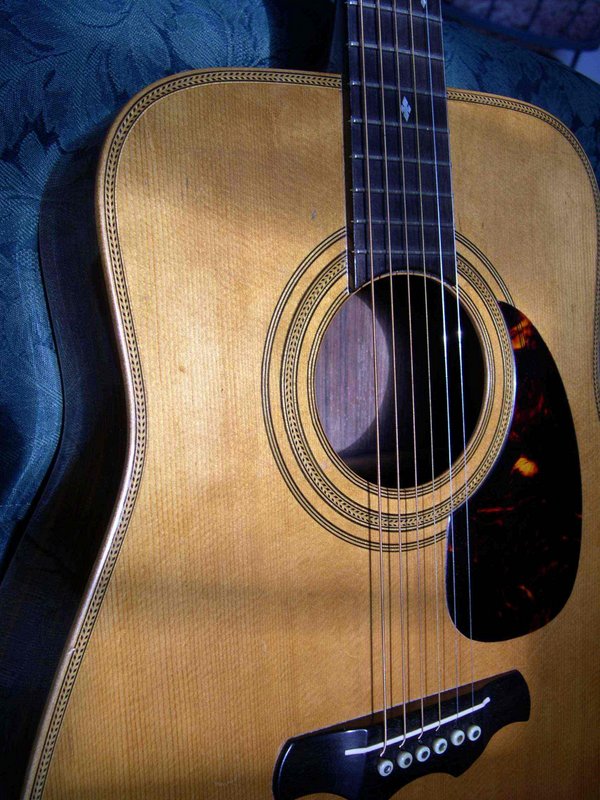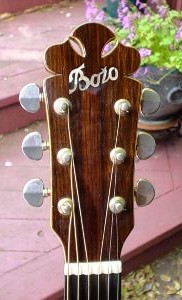 Never thought I'd own one - thanks, Rocky, for talking me into it!!!
---
I have been lucky to meet many of the artists who perform at the annual Springfest event in Live Oak, Florida every March and this last year (2007) I got to meet a guitar-hero of one of my best friends, Mike Jackson. Being that Mike is a serious fan of Hot Tuna, I just had to have a photo taken with Jorma - just to torment him. So, here you go, Mikey - eat your heart out!!!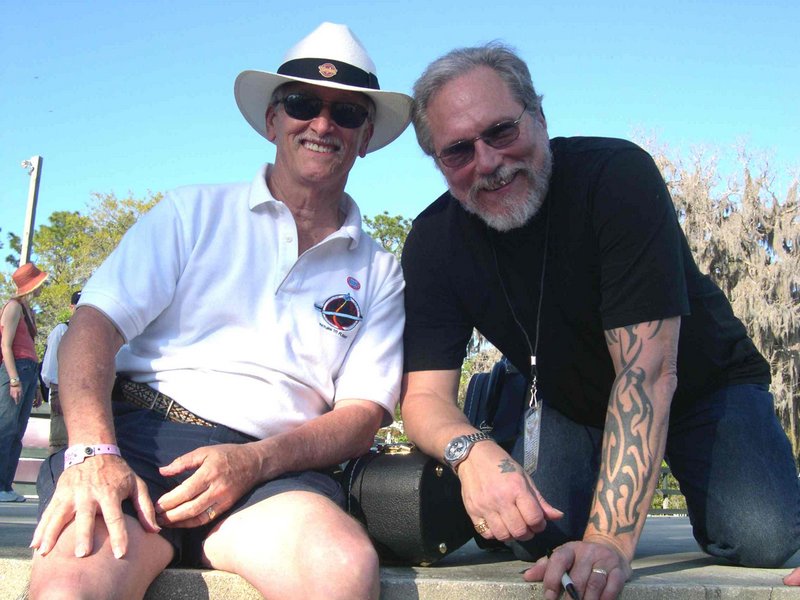 Photography

Initially, most of my photography was concentrated on wildlife (mostly reptiles and amphibians as I was heavily into herpetology at the time) and then broadened into more general nature studies. More recently, motorsports photography has occupied most of my endeavors in still photography. The "handycam" is still used primarily for in-car video (watch for the over-lapping eyeballs in the mirror) but may someday be used for something of more general interest. I am still collecting those pictures that I feel hold interest to people other than myself and will provide either pages for each category of photography or individual links at a later date. Some of them can be viewed on my Facebook page for the time being...
---
Publications and Articles
This section is to contain links to the series of articles I authored on autocrossing and other, driving-related issues. It may be expanded to contain other articles of general interest (read mine...) as well. The schedule for when the items listed below depends heavily on the schedule of upload capability support from my provider...
Behind The Wheel - Preparing for and driving in autocrosses: Not Yet Available
Racers' Notes - Words of Wisdom for the Novice Road Racer: Not Yet Available
Instructor's Guide To Moroso Motorsports Park - Turn-by-turn track instruction: Not Yet Available
Instructor's Guide To Homestead Motorsports Complex - Turn-by-turn track instruction: Not Yet Available
Early Feeding Habits and Growth Patterns in The Genus Python - would you really read this??
---
That's about it for now; as always, you can send your comments and suggestions (maybe other, related links I might enjoy) to the address below... Have fun!

*8o)

---

Send comments to: nobozos@citcom.net


Changes last made on: Sunday, December 7, 2014 at 10:50am