Musical History - The California Years
---
Musical History - The California Years (1966-1970)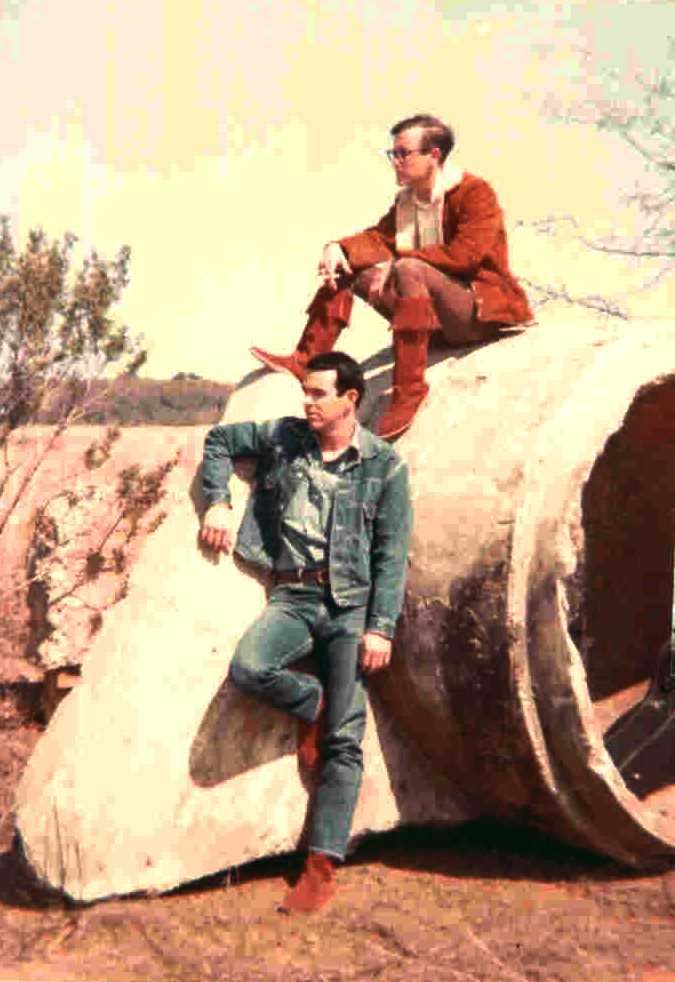 The trip to California was, in many ways, a quest. Rail and I were headed west to become discovered as a duo and I was leaving Florida to see if I could become self-sufficient and truly independent. These were the underlying sub-texts of the trip; we both knew that, failing our goals, we could return to Florida to pick up where we left off.
Since the trip was, ostensibly, a vacation it started as such and Rail and I headed to Santa Monica Beach to enjoy the sun and "cruise for Bettys". Two unforgettable points about that day: first, I wish I had read more about the Pacific currents and how they run north past Japan up into the Arctic and then back down past Alaska, finally passing by California - it would have saved me a lot of pain. I hit the beach running, dumping the gear on the sand and into the water at full speed! I'm not sure I ever got my back wet as I hit the water, did a 180 turn (swimming) and emerged from the surf, shrieking like a little girl; Rail somehow found this humorous... The second thing I remember from that day at the beach is that California girls sure grow up fast. Personally, I don't think they should be permitted on the beach looking like that until they are at least 18. The young ladies we struck up a conversation with looked to be about 20-ish and turned out to be in their junior year - of high school! (And they could have been lying about that!) In all, an interesting but not altogether successful day at the beach.
Our other activities centered around music (which WAS the reason we were there, after all) and we spend a lot of time hanging out on "the Strip" in the music stores and some of the smaller clubs. What struck me was the number of musicians who were the unpaid opening acts or playing on the street for spare change who were really good! I was no longer one of the "big fish"; suddenly, I felt like I had to really work at playing better if I even wanted to be in the same league with the street musicians, It was a very humbling experience and one that made me question how realistic my goals were (but it did make me practice harder).
Rail and I did "Hoot Night" at the Troubadour on a regular basis where Rail introduced me to Larry Murray, the emcee who had given Rail his nickname. Thankfully, I escaped acquiring such a monicker, though it was not for lack of reason. I should have been given the nickname "Fireball".
The "warmup" rooms at the Troub were small rooms upstairs where you could unpack your guitar, get it close to in tune and run through a couple of tunes before your set (3 tunes and off) was announced. However, it was also an area of constant traffic. You never knew who was going to pop into the room while you were warming up. On one particular evening, I was running through a tune on the 12-string and this dude pops his head in the door and says, "I heard your 12-string and had to take a look - do you mind?". Hey, I needed a cigarette anyway so I handed him the guitar and sat leaned back against the table to relax. The next 30 seconds contained sounds and chords I never imagined playable on a 12-string guitar and after he was done totally destroying my self confidence he returned the guitar to me saying, "Nice axe!" and left. I turned to one of the other musicians in the room and asked, "Who the hell was that?". "Oh. That was Dick Rosmini.", came the reply. (If you have never heard his work, treat yourself and find some of his music - awesome!) Anyway, I'm now less than calm and collected so I take a cigarette in my lips, strike a match and promptly ignite my plastic thumbpick - which is still on my thumb at the time. You could probably hear the howls of laughter all the way to the stage. My performance that night was, well, less than stellar...
While doing the Hoot Night thing, Rail met a young singer, also performing at the Troub and asked if she were interested in forming a trio. Though her voice was not at all like Rita's (whose is?) it fit well with ours so we decided to try it for a while. Somewhere along the line some "manager" types took an interest and we ended up rehearsing (under their guidance) at their Beverly Hills house; it was something else! It had the pool and poolhouse at the lower part of the back yard, the large house and big paving brick driveway with the pillars and gate. Richard and Liz Burton lived a few doors up the road. (Surprisingly, I have no rememberance of their names anymore.) In any event, we rehearsed for several weeks and the more we rehearsed, the more we were being molded and maneuvered in the folk-rock direction. (I may not have mentioned this before but I was a bit of an acoustic music purist at the time.) Looking back on it today, they had more of a "Mamas and Papas" group in mind while I was still thinking along the lines of PP&M or Kweskin Jug Band. It was a struggle. In the end the breaking point came when they wanted to sign us up with a contract which gave them all rights/royalties for everything any of us wrote along with about a 60% cut of all the profits (after "expenses") from our eventual success and fame. It made us think about what we were willing to sacrifice in order to get a chance at the "big time", not only in monetary terms but in the amount of actual effort and hard work. Also, there was no guarantee that the personnel would remain the same. As all three of us were writing songs, we decided to part ways, thanking them for their interest and rehearsal time (and pool privileges). This is one of those decisions that I sometimes ponder (usually after too much wine)...
So we went back to our performing as a duo but the energy was now sadly diminished. There were those lingering doubts but we felt like we'd made the right choice. So our summer continued with music and partying. Many nights were spent with a bunch of Hawaiians who would party like there was no tomorrow. In many ways, it helped us to ignore the inevitable. Before very long the summer came to a close and decision time came for me. Rail was heading back to FSU and would, presumably, pick up where we left off in the spring and I knew I could do that as well. However, in order to determine whether or not I could be self-sufficient and truly independent, I felt I needed to stay. Rail looked at me long and hard when we had that talk. Terry, bless his heart, said I could stay on at their place for a while longer if I needed to so Rail packed up and headed back to Tallahassee and I remained, not really knowing what was in store.
Initially, not much changed except now I was living in Alhambra, my interests were in L.A. and I had no car. Terry was great about running me around when he could but that was something I couldn't really rely on. I still tried to hit the strip when I could but that was getting harder as Terry was in school now too. It was time for me to face the facts that I needed to find some form of work. Initially, the thought was to earn enough money for a one-way ticket to England, as American musicians were doing well there at the time. But first I had to find a job and a way to get there...
I Get A "Real" Job"
Distasteful as getting a job was to me, I knew it was the right thing to do as I still needed to at least help pay for food while staying at Terry's. So I filled out an application with a job placement agency in LA and steeled myself for what might come my way. I took an interview with Graybar Electronics for a stockboy position and passed the first phase but had to go back for a polygraph a few days later. In the meantime, I got an interview request from Service Bureau Corp (SBC - a subsidiary of IBM) for a quality control position in their data processing offices. Excited about that, I set up an appointment for the first date Terry could transport me the 40-some miles to Englewood. Upon arrival I was routed to Jim Woods(?) office where he reviewed my application and resume and apologetically indicated that the position required a 4-year college degree so I would not meet the criteria. "But," he said, "since you're here I might as well let you take the programming aptitude test anyway.". That part, it turned out was sort of fun so I completed it and thanked Jim for his time and courtesy before leaving more than a little disappointed.
The following week I took the polygraph test for Graybar and got to experience first-hand the "jolt" that goes through you when you knowingly lie during one of those. (What, me steal anything from an employer? Me ever take drugs? Are you kidding???) Regardless, I passed (having revised my testimony) and they tendered an offer to start in 2 weeks, which I accepted. Then, the very next day, the placement agency called to say that SBC had requested I come back for a second interview - say what? I told the agency I had already accepted the Graybar offer and they advised me to do the SBC interview to be fair to myself. Good advise.
I was able to get Terry to drive me back the following day to Englewood and, with some curiosity, reported to the secretary for the office director. I walked up to her desk and announced myself and she blurted, "Oh, my, you're the one that only missed two questions on the test! Please don't mention I told you that!". OK, a good start at least. (A quick side not here to mention that in 4 years I would move to Massachusetts to work for the person that only missed one of the questions on the exam - Eric Frey.) In any event, the director reiterated that the position they were looking to file stated that a 4-year degree was required but, considering the good score I had acheived on the aptitude test (he did not mention how well I had actually done) they were willing to "take a chance" on me (though not at the salary originally stated). I then told them about my previous commitment to Graybar but indicated that I would rather work for them if I could get out of the Graybar acceptance. They agreed to give me a couple of days to work that out and let them know my final decision. Needless to say, I took the SBC position and so began my 43-year career in data processing.
Remember that, at the time, I was planning on working only long enough to afford that on-way ticket to England but, in order to get to work regularly, I had to buy a car (used VW bug) for which my uncle "Mac" had to co-sign and then find a place closer to work to live. Then I found out about the IBM office dress code - suit only with a white shirt and "sincere" tie. Fortunately, some of the others at work had been in similar straits and steered me to a suit dealer in downtown LA that sold 3 suits for $100. Even so, those items together put me in debt to the point that I had to decide which three nights out of the week I had to skip dinner! Still, I was working, learning to program the computers (on my own) and loving it - to the detriment of my musical aspirations...
As time went on and I progressed further with the company I was actually able to save a little money! It was at this point that I decide to trade in the Gibson LG-3 that I had been playing since 1961 for my newly found 1965 Yamaha FG-180 which I had discovered at Westwood Music in Santa Monica. It had taken me 6 months of searching and playing different guitars until I found this one and, from the first moments I played it, I knew it was a "keeper"... There were many, many songs written on this guitar - most of which were for a young, California girl that was only 15 when I first met her. That was the last thing I needed with everything else going on but, for some unknown reason, I just couldn't get her out of my mind...
After about three and a half years I was programming full-time and had spent over 2 years on loan to different divisions of IBM for work on various projects, including one to study the development of parallel processing. This exposed me to computer language development and operating systems as well as a wide variety of applications development. But I could see that the more interesting work was going to be routed to different divisions in the near future so I stated putting out feelers for other opportunities. One such opportunity came from a previous manager who had left the company to join a start-up company in Cambridge, Massachesetts developing operating systems for minicomputers (Data General). He contacted me with (what seemed to me at the time) a very attractive offer to join him and the few others at the company, Capidyne Corp., as part of the core development team. The president of the company, Eric Frey, was the person who had only missed one question on the IBM programming aptitude test - small world. So, in May of 1970, I packed up my belongings and the movers loaded them into the truck. Then I put my suits, snakes and Yamaha guitar into the Sunbeam Tiger and headed east, thereby leaving forever behind my dreams of musical fame and fortune. However, not all my dreams left behind would remain there; a new era was about to begin...
This section is still being reviewed and edited and will likely require further modification in order to be completed - please stay tuned.
---
As always, you can send your comments and suggestions (maybe other, related links I might enjoy) to the address below... Have fun!

*8o)

---

Send comments to: nobozos@citcom.net


Changes last made on: Thursday, December 31, 2011 at 5:17pm