</P>

2003 SPIRIT OF VINTAGE COMPETITION AWARD
Terry Jackson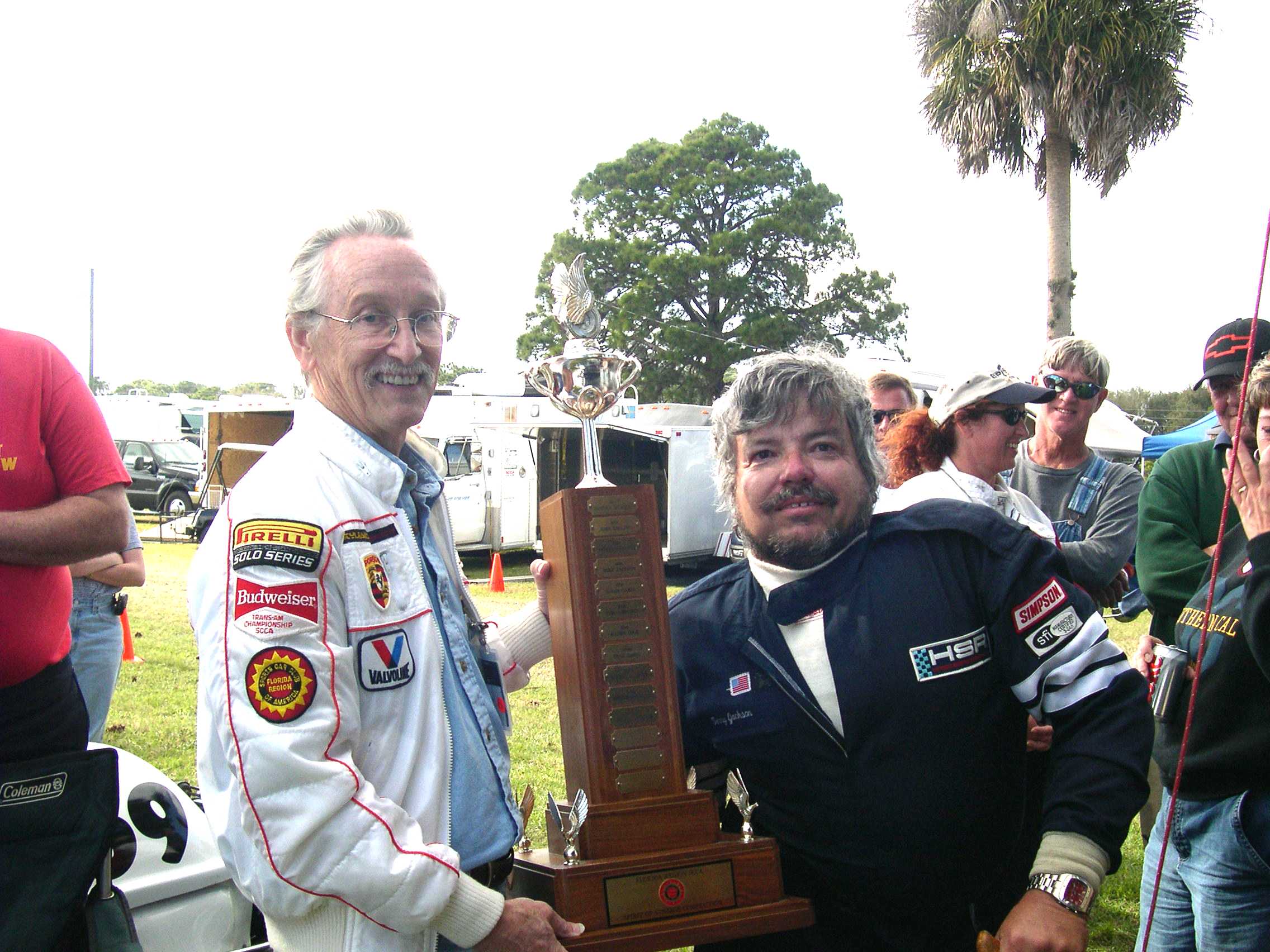 ---
Each year the participating body of the Florida Region SCCA Vintage Program votes for the individual who, in their opinion, most exemplifies the true spirit of Vintage Competition. This individual may be a driver, crew member or anyone associated with the SCCA Vintage Program that has personified the Vintage Spirit in conduct and actions. This award may only be received once by any single person so it is the most prestigious award the Vintage Program can bestow on an individual.
This year I am proud to announce that the ballots have selected an outstanding individual from our ranks in the personage of Terry Jackson (on the right in the picture above) as the year 2003 award recipient. Terry's road to Vintage Racing was a long and interesting one and is best told in Terry's own words and style.
"Vintage racing is a dream come true for me on several levels.
First, there is the unbelievable opportunity for me to live out a childhood dream. Itís a dream Ė the chance to race side-by-side on some of Americaís great sports car tracks against some of the most legendary cars Ė that many people share. But because of my somewhat special circumstances -- I developed polio as an infant and have had limited mobility since Ė the chance to live out a Walter Mitty fantasy is something I treasure perhaps more than others.
But thereís more to my love of vintage racing than just competition. From my days as a youngster, nose buried in the latest issue of Road & Track and Car and Driver, I have appreciated and coveted the cars that today make up vintage racing.
Though I drooled over Ferrari SWB California Spyders, covered headlight E-Type Jaguars, Corvette Stingrays and the Jim Hall Chaparrals, my passion from 1965 forward has been Mustangs.
Growing up in Baltimore, I recall at age 15 making a pest of myself at Archway Ford, a Shelby dealer that sponsored Mark Donohue in a 1965 Shelby GT 350. I can still picture the blue 1966 427 Cobra sitting behind blue velvet ropes in the showroom, its $7,995 sticker price way beyond my wildest hopes.
While I didnít get a Cobra Ė or even a GT 350 Ė for my 16th birthday, I was blessed with generous parents who gave me a red 1965 Mustang convertible. It would be the first of eight I have owned so far in my life.
Fast forward to 1987, when I first discovered vintage racing.
A career journalist, I was city editor of the Sacramento Bee newspaper in Sacramento, Calif. While I retained my love of cars, until that point I had never connected that passion with my passion for journalism. Through a series of fortunate incidents, I had the opportunity to start a weekly car review column for the paper. That led me in August 1987 to the Monterey Historics at Laguna Seca.
It was an automotive epiphany: Here were the cars of my youth being raced at speed by people my age who viewed the cars with similar reverence. I was hooked.
My first immersion came via the written word. Vintage racing was just beginning to explode and I saw a niche for a book on how to get started. In 1989 Robert Bentley Inc. published my first book, Vintage Racing British Sports Cars. In that book, I interviewed dozens of racers about their cars, how they prepared them and the stories of how they became racers.
As I researched the book, I became more convinced that I had to take the plunge.
Given my passion for Mustangs, there was no other choice but a Shelby modified 1965 Mustang. After many discussions with my incredibly understanding wife, Marjie, I began a search for my car.
On the West Coast in the early 1990s, one of the experts in Shelbys and Mustangs was Gemini Racing in Chandler, Ariz. Owned by Larry Pond, one of the nicest guys Iíve ever met, Gemini was well connected in the Mustang community. Larry soon found me a í65 fastback that had a lot of race history; it was owned by Bill Beilharz, a Phoenix lawyer who had smashed the driverís side in a crash at Firebird Raceway. Beilharz had his eye on pro racing and wanted to sell the Mustang. A deal was reached and a yearís worth of restoration began. The original white with blue stripes paint job was replaced with red with white stripes Ė a combination that didnít come along until 1966 Shelbys, but nonetheless is my favorite.
The other major modification was the removal of the original top-loader four-speed manual gearbox and replacement with a C4 three-speed automatic transmission. While I can occasionally use a clutch, my left leg is not up to the rigors of competition. But I figured that if Jim Hall could race his Chaparrals with automatic transmissions, I could follow in the same vintage spirit with my Mustang.
The period-correct C4 automatic was reworked by Hughes Performance of Phoenix into a manual-shift gearbox. Equipped with a transmission cooler, the gearbox gives me about two years of service before it has to be refurbished.
The car and I debuted in February 1994 in a VARA race at Phoenix International Raceway. History records that I started all my races and finished all my races. It probably wonít record the huge grin that was pasted on my face the entire weekend and for at least two weeks later.
Races at Willow Springs outside of Los Angeles followed, until May 1994, when I accepted a job at the Miami Herald and my wife began work at the Fort Lauderdale Sun Sentinel. Aside from the usual new-job jitters and the hassles of moving across the country, my primary worry was whether I could find a race group to continue my vintage racing obsession.
I didnít need to fret. Telephone conversations made from California to John Rollins in the Florida Region SCCA and Beau Gabel in the Central Florida Region convinced me that my Mustang and me would be more than welcome.
My first race in July 1994 confirmed that long-distance impression. For the next 10 years, this hearty core of racers would become friends both on and off the track. We all share a love of our cars that transcends the competitive spirit. Though thatís not to say we donít enjoy a heated chase.
When my fellow vintage enthusiasts honored me this year with the Spirit of Vintage Racing award, I couldnít have been more touched. Itís the sort of camaraderie that makes vintage racing the experience of a lifetime.
Iíve been fortunate to enjoy a lot of great things in my life Ė the love of a great wife, the honor of heading a team that won the 1992 Pulitzer Prize for Public Service, authorship of six books, and the chance to become friends with some of my childhood racing heroes, including Carroll Shelby.
I now add to that list the wonderful honor given by my fellow vintage racers. Itís the capstone of a dream that I get to relive every time I get to take my Mustang out on the track."
We are happy to to have Terry and his wife Marjie as part of our Vintage "family". I know that Terry will continue to contribute to our sport with his enthusiasm and wit, not to mention his considerable talents as a writer. His attitude in the face of adversity gives us all pause for consideration when those minor, nagging complications occur and the track (and in life) and somewhat sets the standard we all hope to achieve. I trust Terry will accept the year 2003 award as our token of appreciation and admiration. Congratulations, Terry (and Marjie), on an award well deserved!!!

Hope you come and join us at the track sometime soon - come join the fun!
*8o)
---

Sent comments to: no_bozos@bellsouth.net
Changes last made on: Sunday, February 29, 2004 at 16:30pm