NC Home Porch Renovations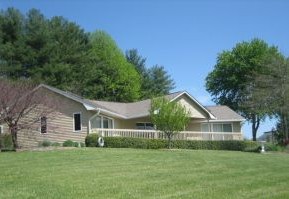 Welcome to our NC home renovations page ... if this is not where you intended to go, you still have time to get out now...
Until recently this has been a "work in progress" page so I hope you'll forgive me if some mess remains. We have now completed our renovation projects and I now have had some time to put this together for our friends and family who have expressed interest in what we have been doing this year.
This year we decided to redo the kitchen and screen in part of the deck to keep out most of the bugs and some of the pollen, etc. in order to enjoy the use of the porch more. The kitchen makeover involved replacing the flooring, appliances, cabinets and lighting (that's all, to quote Rocky)... So, I got to thinking about how I might make use of some of the "old" cabinetry rather than demolishing or donating them and decided to use most of it in the studio to replace all the metal shelving that was currently holding all my "stuff". This turned into another project in itself...
Each of these projects is addressed separately in order, by date, in order to give you a sense of the amount of time (both elapse and effort) taken to prepare and complete the project. I'll give you a hint - it was a LOT longer than we had hoped... Here we go!
---
Porch Renovations
Rocky always said that if we were to screen in the center section of our porch she would use it more since we won't have "all the bugs" flying around. Well, much as I hate to admit it, she was right. Since we made the updates we have been able to open up the house and enjoy the cool of the foggy mornings we have here without worry of becoming infested! It also essentially expands the living area by some 288 square feet; so that's nice as well. Our house plants are now enjoying a little more light than they are used to and so are we. It was a good thing to do...

Here's how we got to where we are now.
---
Initially, we decided to add a small extention onto the porch in the spring of 2014 to give us an area that would get some (sort of) early morning sun. This update has been included with the latest renovations of screening in the center section for your viewing pleasure.
Day 0 - The Porch Extension (Feb - Mar 2014)
---
The current updates provided a screened-in area in the center of the porch with a carpeted floor for "outdoor" dining and general relaxation. It went like this ...
---
Day 1 - The Screened-In Area Framing (June 19)
In really surprised me how quickly the framing went up for the structure itself - I thought, "Great! This will be done in a few days!". Like most things, the devil is in the details...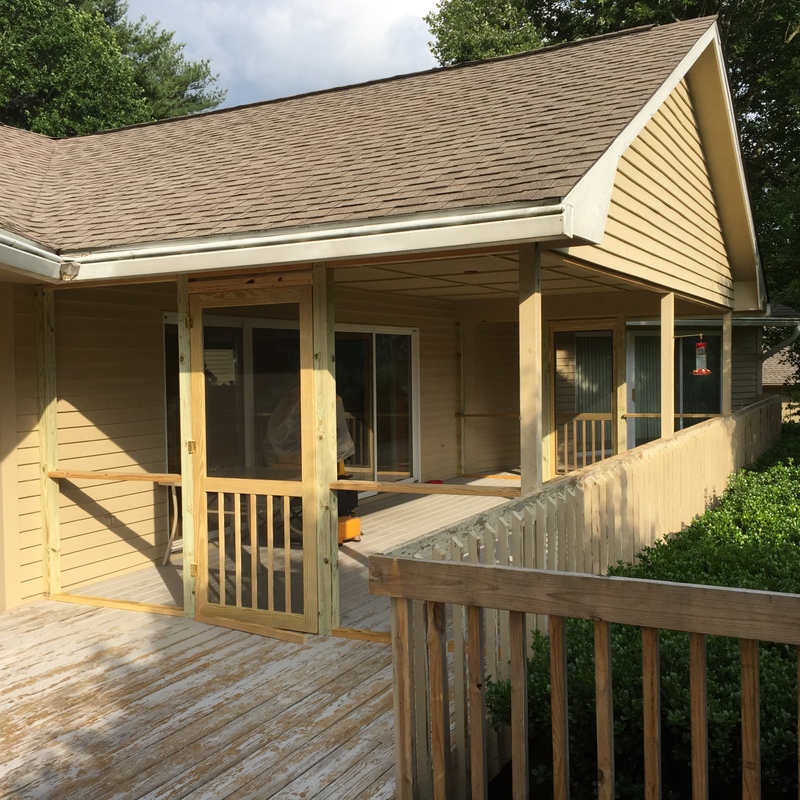 ---
Day 2 - The Screened-In Area Framing (June 22)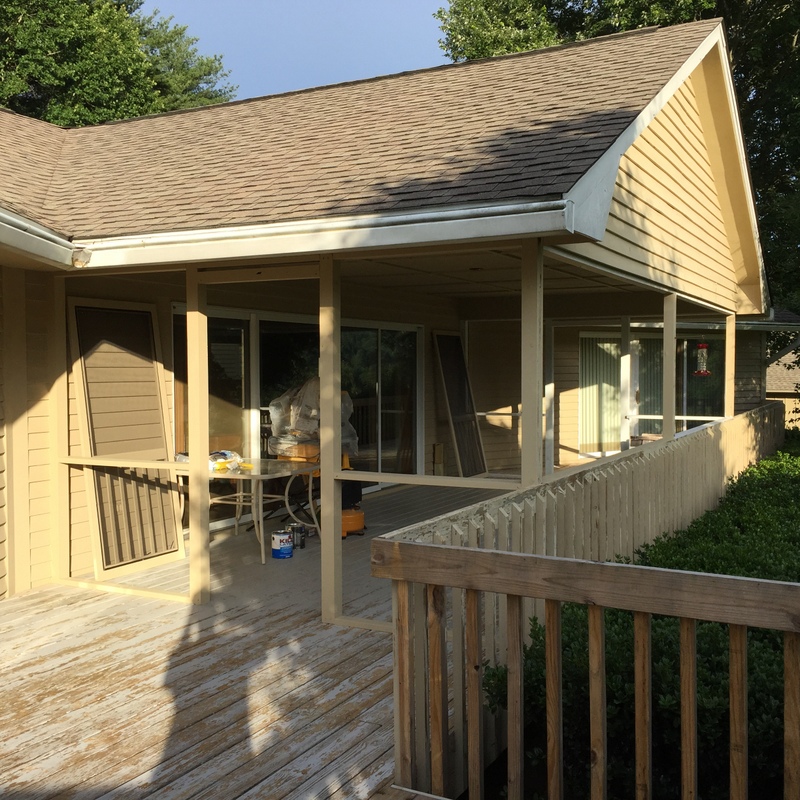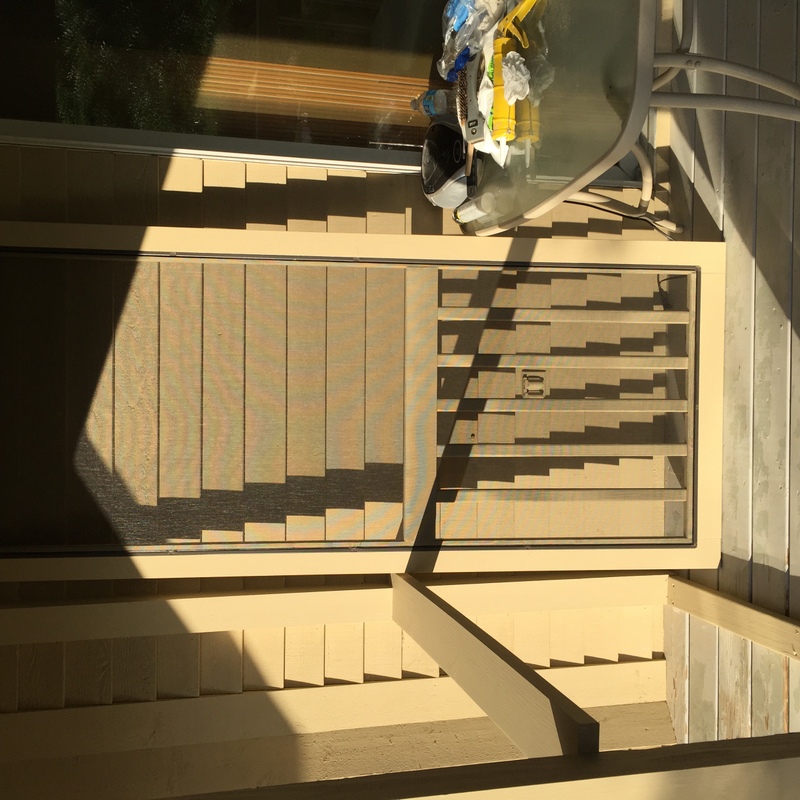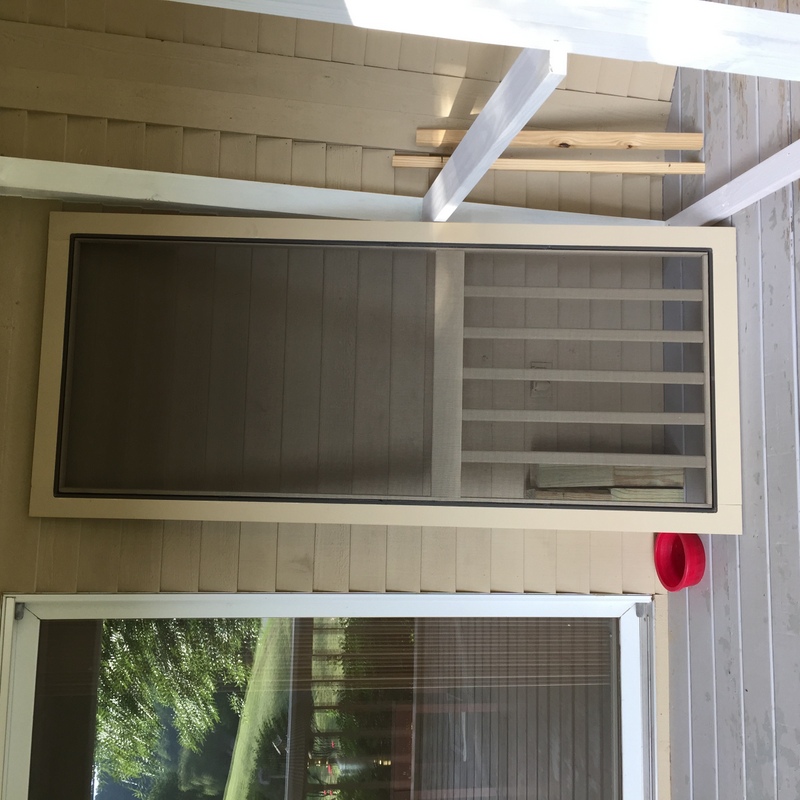 ---
Day 3 - The Screened-In Area Priming (June 23)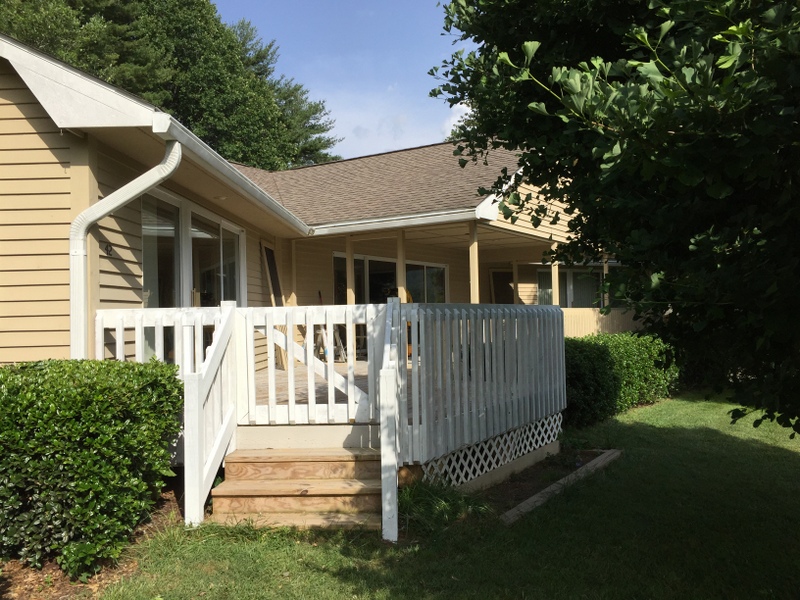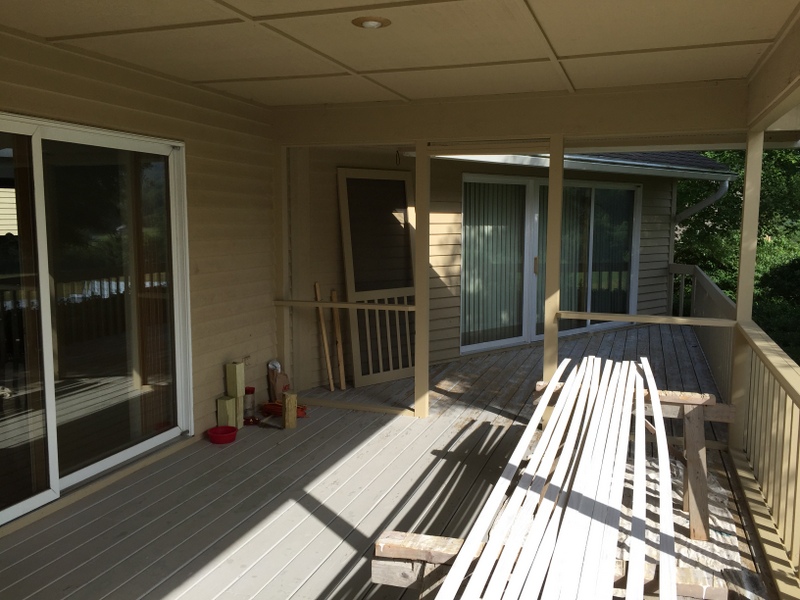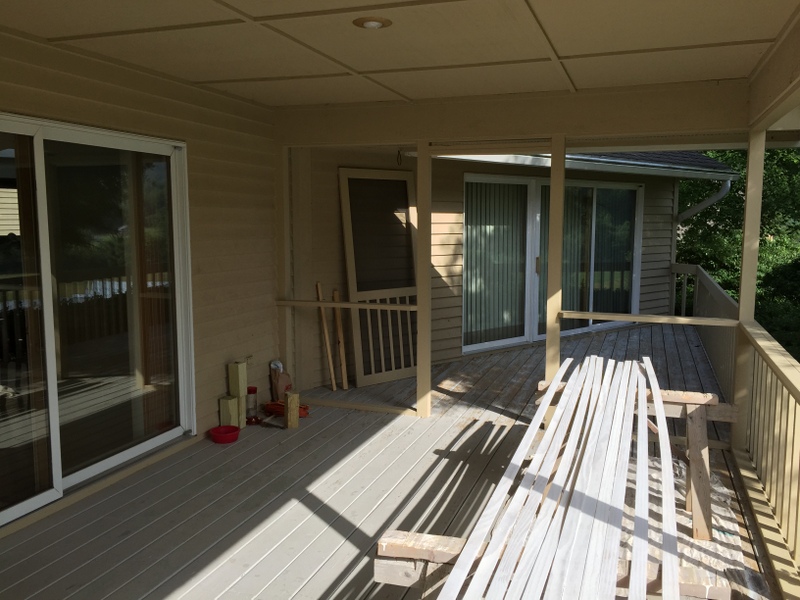 ---
Day 4 - The Screened-In Area Painting (June 24)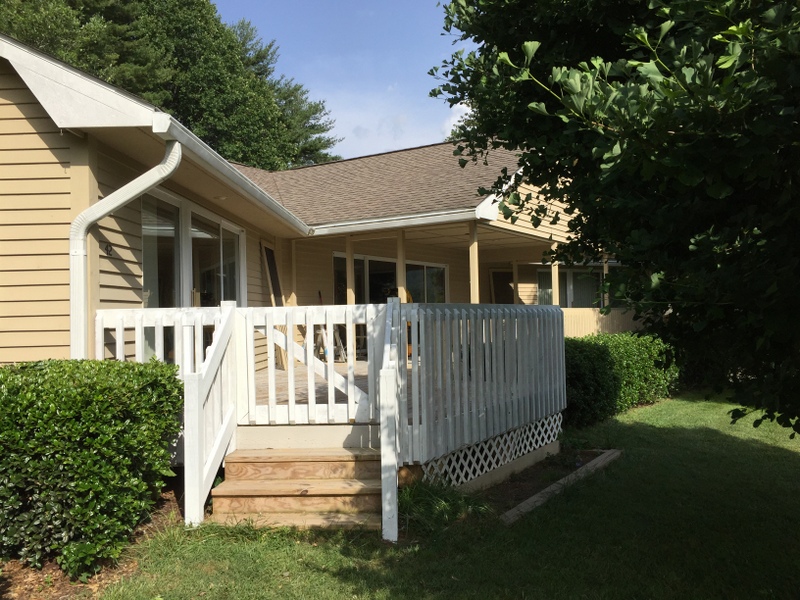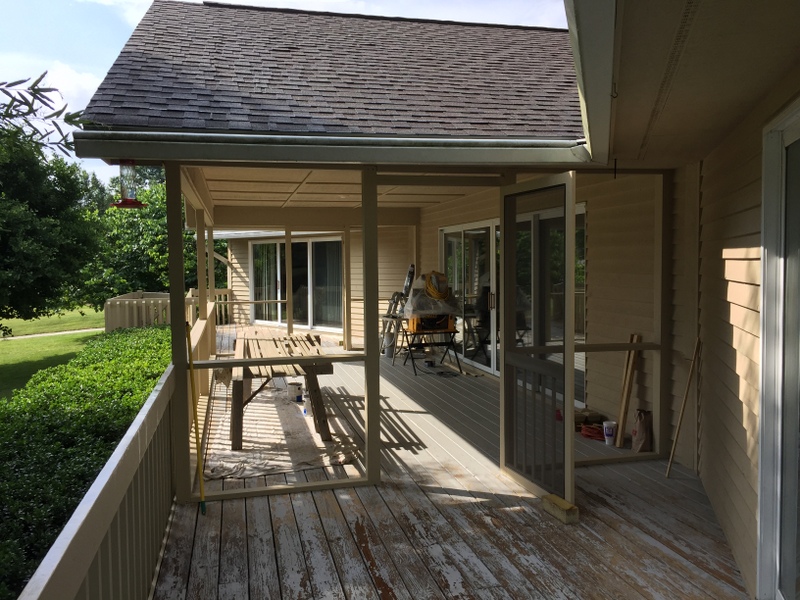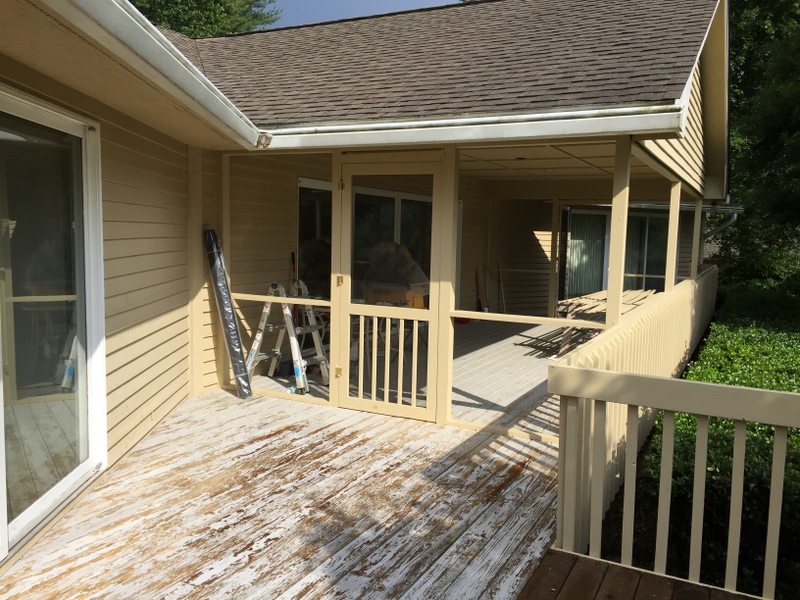 ---
Day 5 - The Screened-In Area Screening (June 25)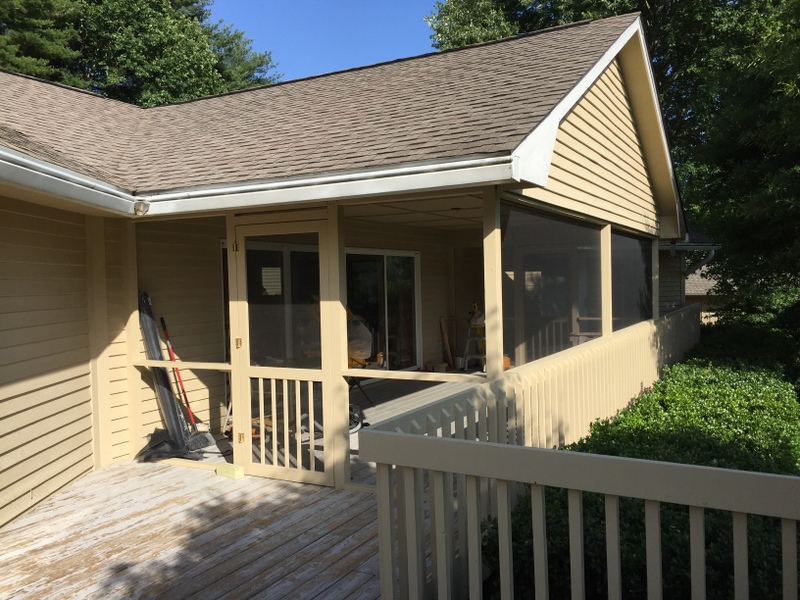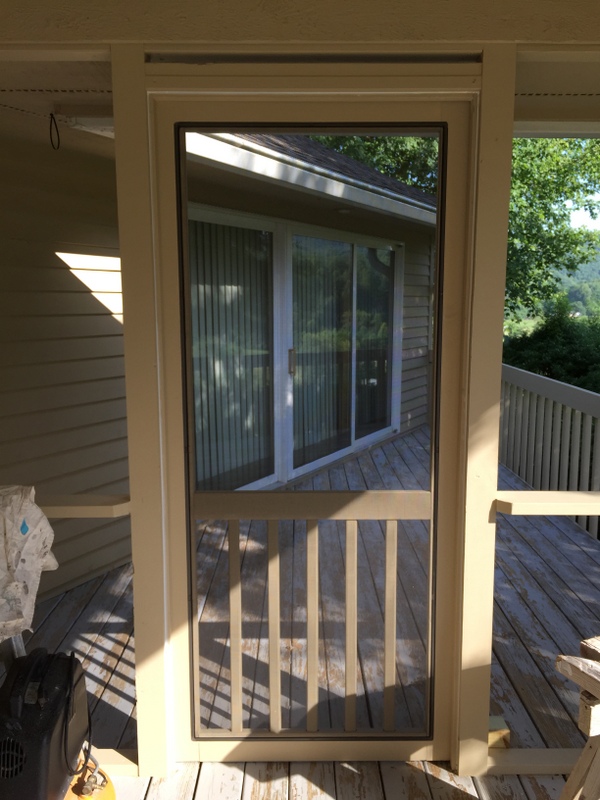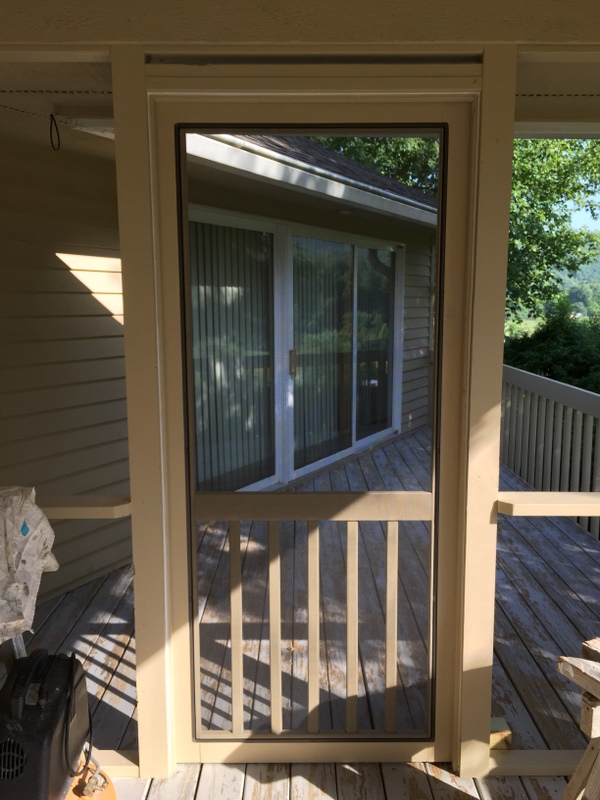 ---
Day 6 - The Screened-In Area Trim Painting (June 26)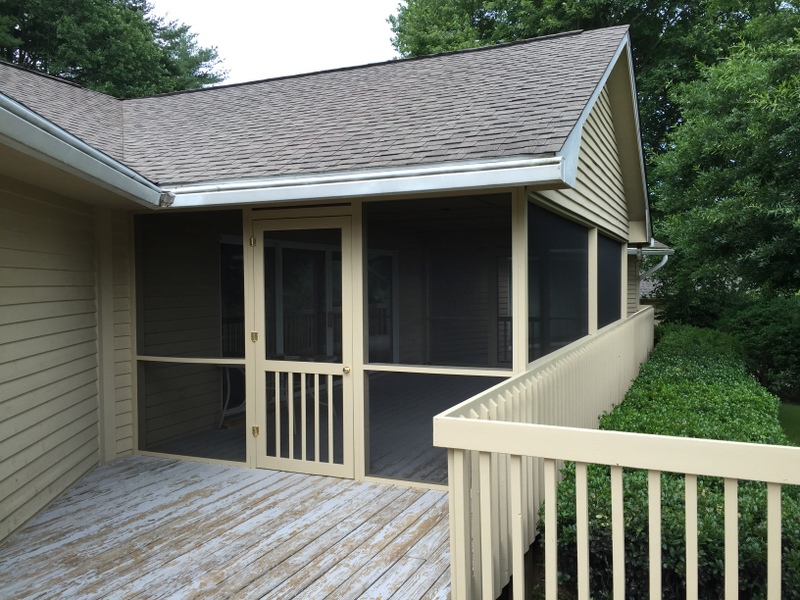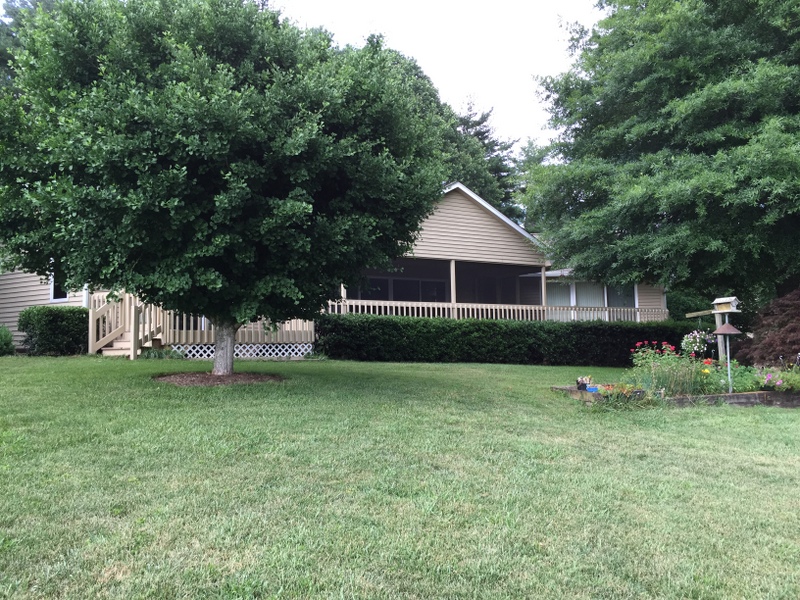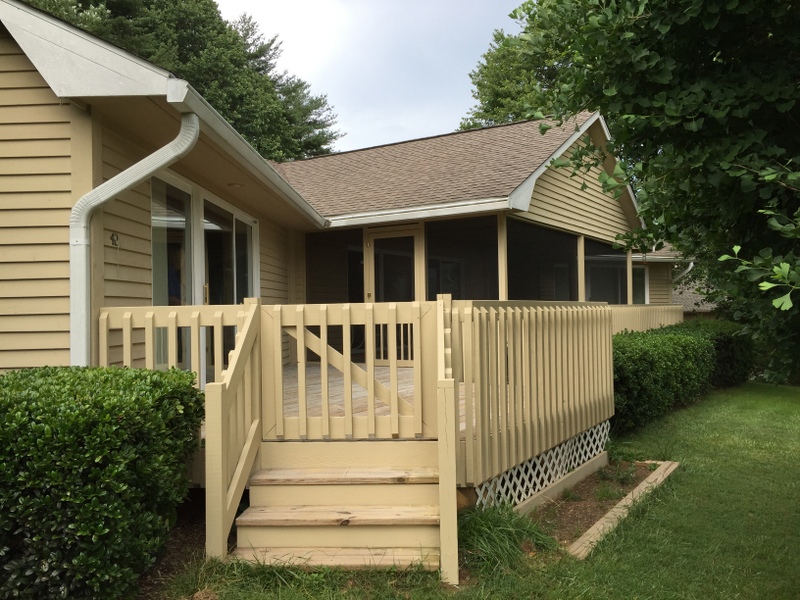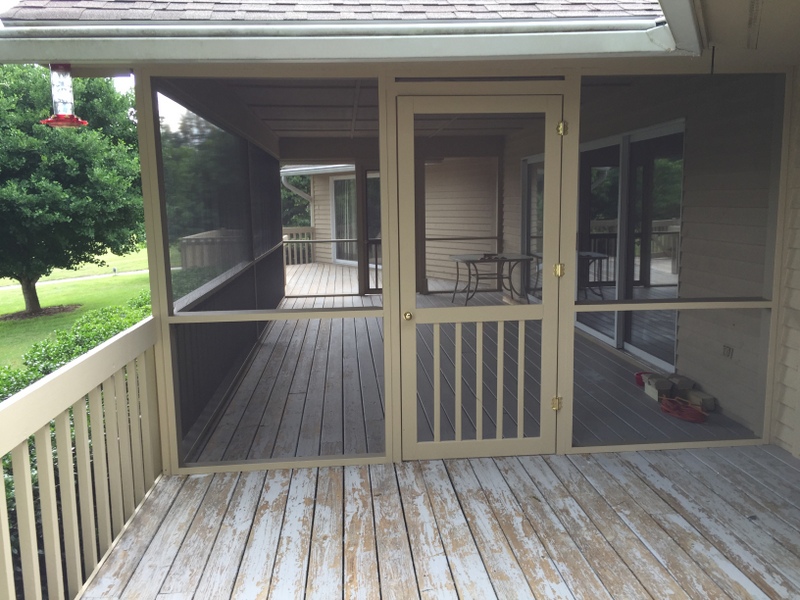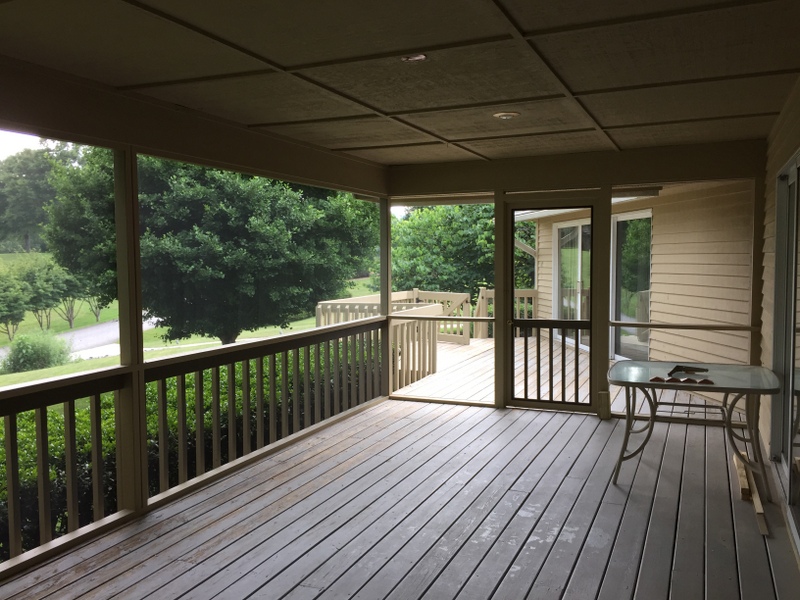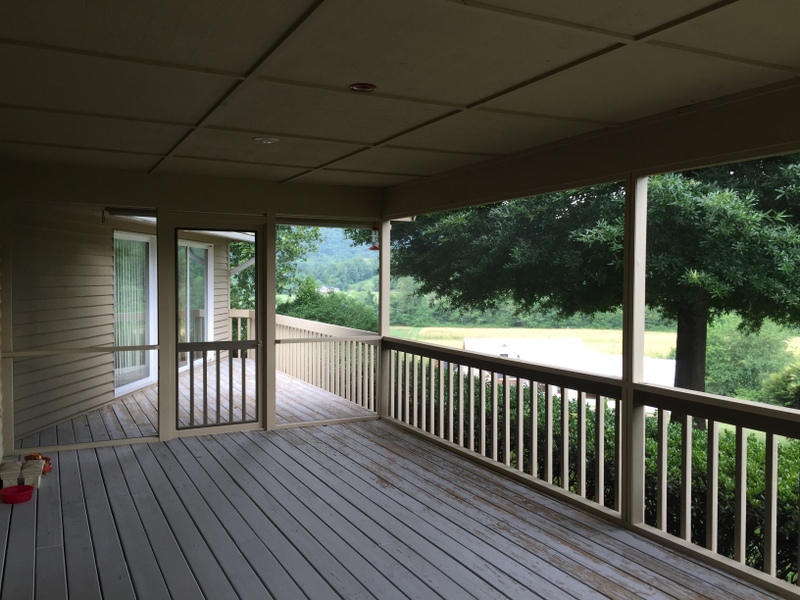 ---
Day 7 - The Screened-In Area Floor Painting (July 1)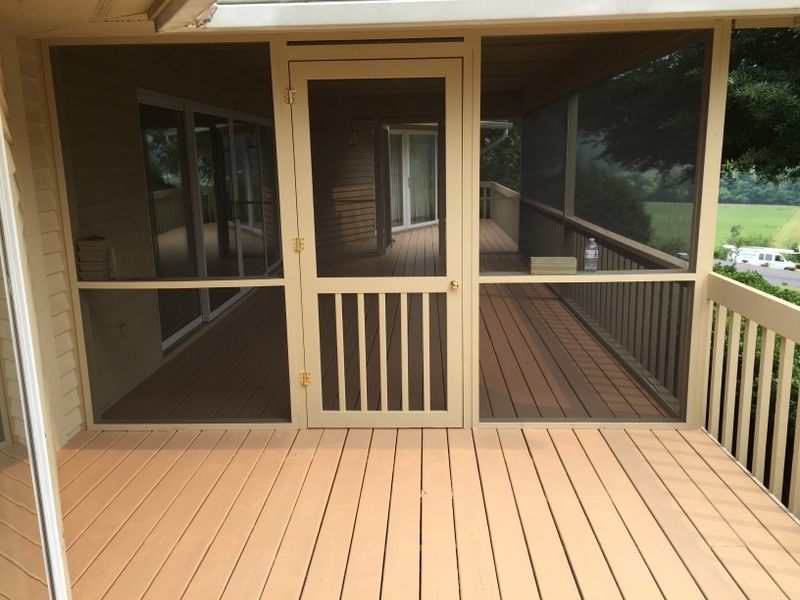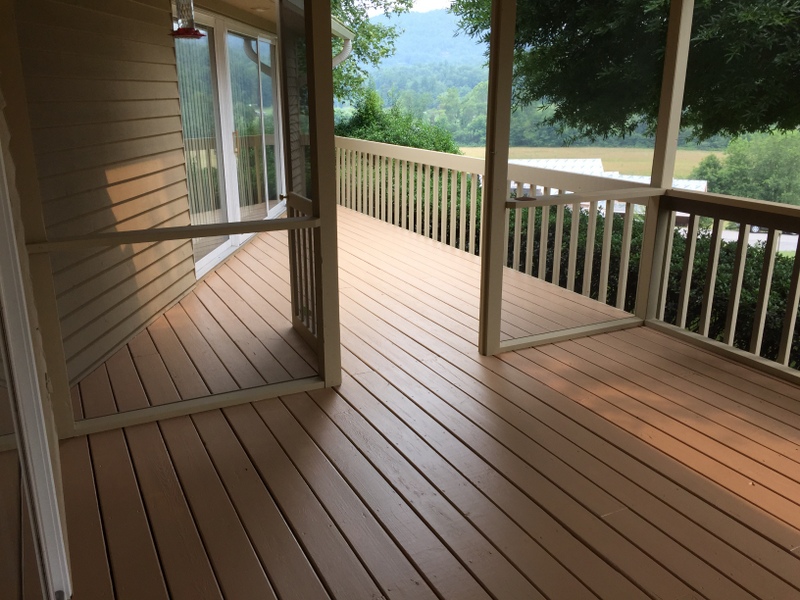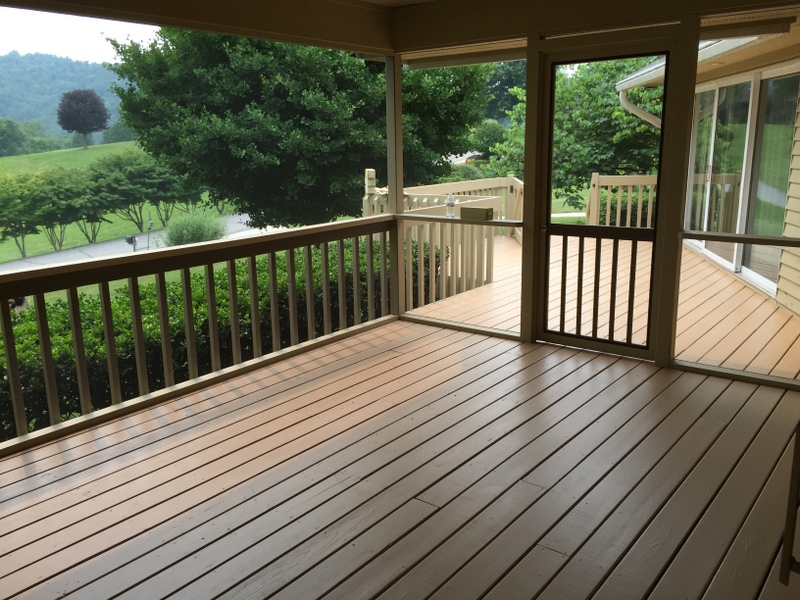 ---
Day 8 - The Screened-In Area Flooring (July 9)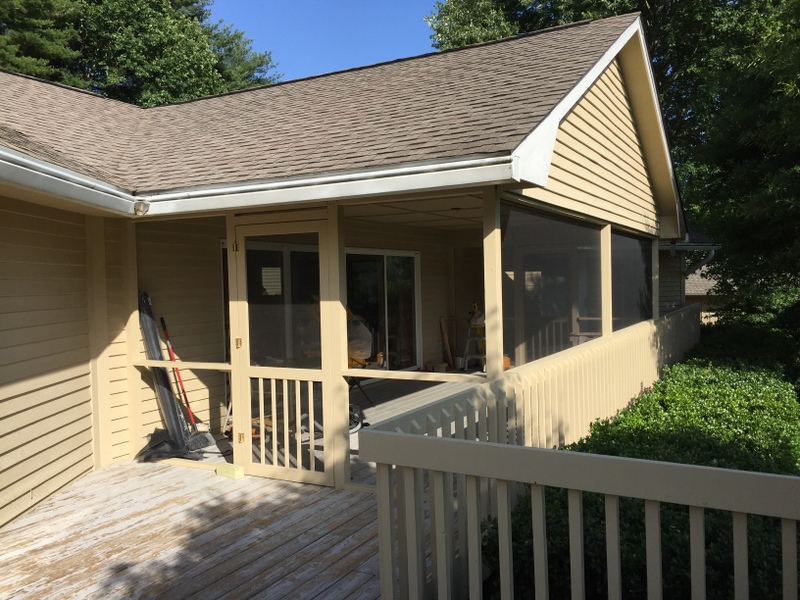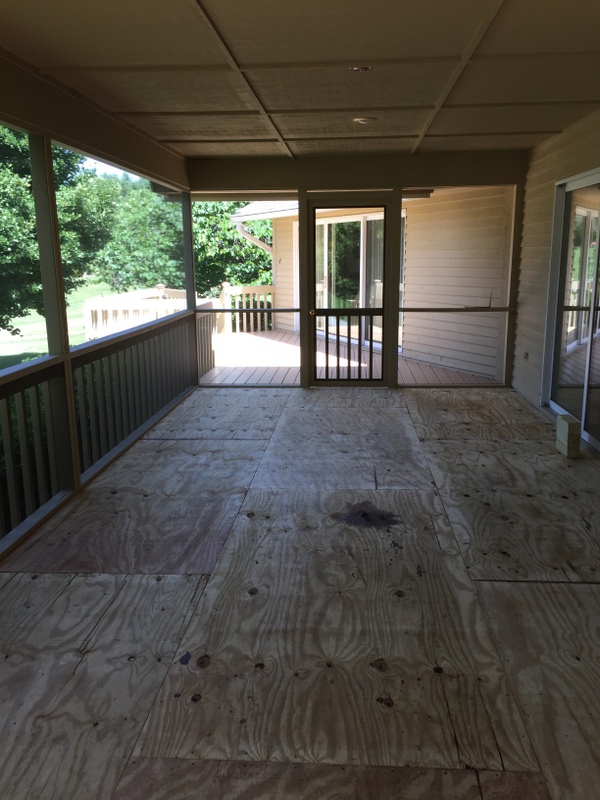 ---
Day 9 - The Screened-In Area Carpeting (August 29)
This was the final, and most difficult, step. Difficult only because I chose to do it myself. Little did I know the pitfalls that lay in wait for me. The most time consuming was trying to get the carpet department at our local Lowe's to simply cut the 12 x 24 foot piece of outdoor carpeting for me; after three unsuccessful trips (2 with a preparitory phone call before time) we gave up and went to the Lowe's in Hendersonville where they took my order, cut the carpet while Rocky and I took in a movie and had it waiting for us when returned - easy peasy! The hard part came when I arrived home and decided to unload and position the carpeting on the porch - by myself. Three weeks later, after a trip to the doctor and two weeks on anti-inflamatory drugs and muscle relaxors I asked my brother-in-law for some help and we did the final stretching of the carpet on the flooring and stapled it in place. I cut the door openings and added the threshold plates just to finish it off. All that remains is to nail down the molding around the edges and it is done; but I need to find someone with a nail gun for that... Pictures to follow...
---
Day 8 - The Screened-In Area Carpeting Trim (December 17)
When we had the final trim strips installed on the kitchen floor cabinet back I had Eric tack down the porch carpeting trim strips as well. I had already cut and painted them so all that was left was to do the nailing, which is better done with a pneumatic nail gun. He did a brilliant job of it and the porch renovations are now declared to be complete!!!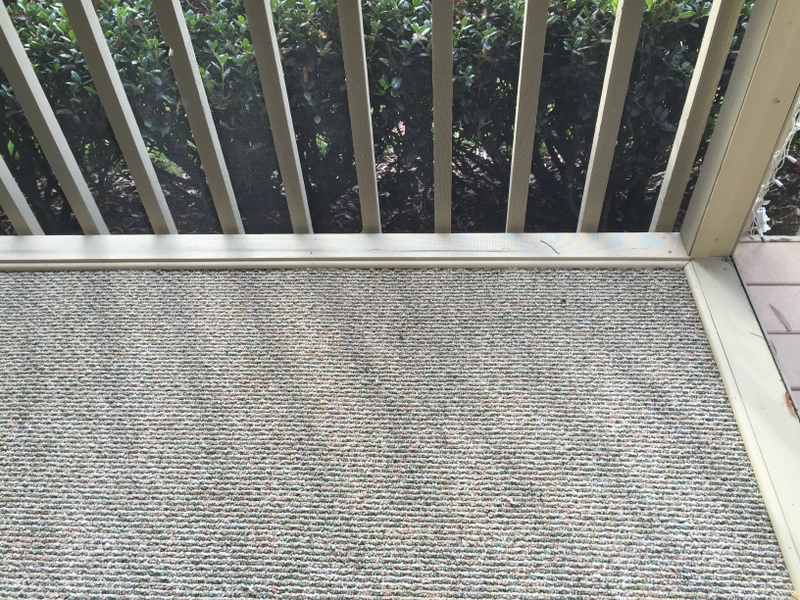 ---
That's about it for the porch renovations; as always, you can send your comments and suggestions (maybe other, related links I might enjoy) to the address below... Have fun!
*8o)

---

Send comments to: nobozos@citcom.net


Changes last made on: Sunday, January 3, 2015 at 3:54pm