---
On This Page: [St. Paddy's 2018] [Celtic Collective] [Set Lists] [Samples of Our Music] [2016 Mud Dabbers' Open House] [2016 Founders' Day] [Lake Atagahi Floating Jam] [185 King Street - 05/21/2015] [Founders' Day Celebration - 08/30/2014] [Taste of Transylvania - 05/06/2014] [Sharing The Season - 12/13/2013] [Mud Dabbers' Open House - 12/13/2013] [Founders' Day - 08/31/2013] [Brevard Farmers Market - 08/03/2013] [Roots Night @ 185 King Street - 06/13/2013] [Brevard Farmers Market - 06/01/2013] [TC Heritage Museum - 05/24/2013] [Oskar Blues 2013] [Mud Dabbers 2012] [St. Patricks Day 2012] [Empty Bowls Event 2012] [KOALA Performance 2012] [Land Of Waterfalls Gallery 2011]
---

Appearing soon at a site near you!
Welcome to our web page!
... if this is not where you intended to go, you still have time to get out now...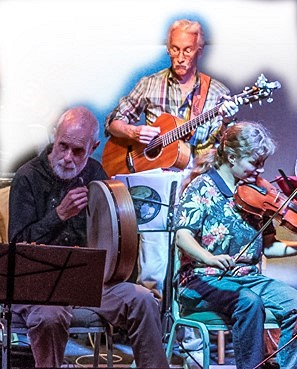 Celtic Conspiracy was a group of musicians based in Brevard, NC, who enjoyed the music of Ireland and the British Isles and, perhaps more importantly, each other's company. Combining flutes, whistles, concertina, fiddles, hammered dulcimer, Celtic harp, guitar, banjo and percussion, we presented a full sound of Celtic music performed in a more relaxed manner than would be executed for dancers (they really wore us out!). In this sense, we were more a performance group than a dance or pub band - not that we had anything against playing in a pub mind you ... The astute listener might also have recognized a contra-dance tune or two mixed in amongst the Traditional tunes – you never quite knew what might appear in the set list!
But that was then and this is now and there's only the future to be traversed; thus, we have reorganized as a trio of fiddle, percussion/flute/whistle and guitar/cittern/mandolin that focuses on the less known Celtic tunes played at appropriate tempos for both dancers and revellers; or, simply stated, Celtic music and it should be played! This is a significant departure from our more sedate sets of the past and may take some time before we are to the point we're willing to unleash our music on the unsuspecting public but we hope to be at that point some time this year, good Lord willing. Wish us well and check back here periodically to see if we have posted any pending performance dates. You might even catch our inaugural performance!
2019 Calendar of Appearances:
TBD
Hope to see many of you at one of more of events this coming year!!!
---
Previous Postings
Some of Our More "Standard" Set Lists
As we have been asked to perform in a number of different settings for varying functions and locations, we have devised several different "standard" set lists. These lists undergo constant revision and restructuring as tunes are added and deleted or moved to other set lists. Basically, they share many tunes but are predominently composed of tunes to suit the overall "mood" of the event. For instance, the Sublime Set contains many aires, laments and other slower Celtic tunes well suited to soothing environments where it is intended to serve as mostly background music while other activities (such as dining) are taking place. The Tasty Set contains many of the tunes in the Sublime Set but also more of the hornpipes, jigs and reels that makes Celtic music so enjoyable. Finally, the Sprightly Set contains mostly jigs, reels and polkas that get the audience dancing and clapping along with the music. We have also done hybrids of each set to suit more taylored situations and will continue to do this as special events require. Please browse each list to get a feel of the extend of our repetoire.

---
Samples of Some of Our Tunes
People have been asking about what style of Celtic music we tend to play so we thought we'd give you a sample of a few of our tunes though the wonders of the internet, i.e. here on our webpage. Please note that these are not professionally made recordings but, rather, samples taken from the hand-held recorder used during our weekly practice sessions. So they aren't be best quality but they are enough to get a feel for the music we perform. And without further adeau, here they are! (click on the musical note to play the clip)

The Ballydesmond Polka #1

The Ballydesmond Polka #2

The Butterfly

Castle Kelly

Father Kelly's

A Fig For A Kiss

O'Carolan's Receipt For Drinking

Out On The Ocean

Reverend Brother's

The Road To Lisdoonvarna

The Silver Spear

The Star Above The Garter
---
What's The Celtic Collective?
Many of you have asked about the performances of The Celtic Collective around town so I thought I'd address that topic here. Many of the venues in Transylvania County and the surrounding areas simply don't have the performance space for our entire band or actually desire a smaller, more intimate group of players (which is often the case when the music is to provide background music for dining or conversation-centered events). In these cases, we provide an appropriate number of players in accordance to their needs. It is usually a quartet subset of the entire band and, therefore, a cross-section of the instruments. All players are members of the full Celtic Conspiracy band so the music set lists remain pretty much the same. Same music, different configuration - that's all. You'll find calendar events for this group listed with those for the full band, but marked accordingly. I hope this helps explain things!
---
Past Celtic Conspiracy Performances
---
The Phoenix & The Fox - St. Patrick's Day, 2018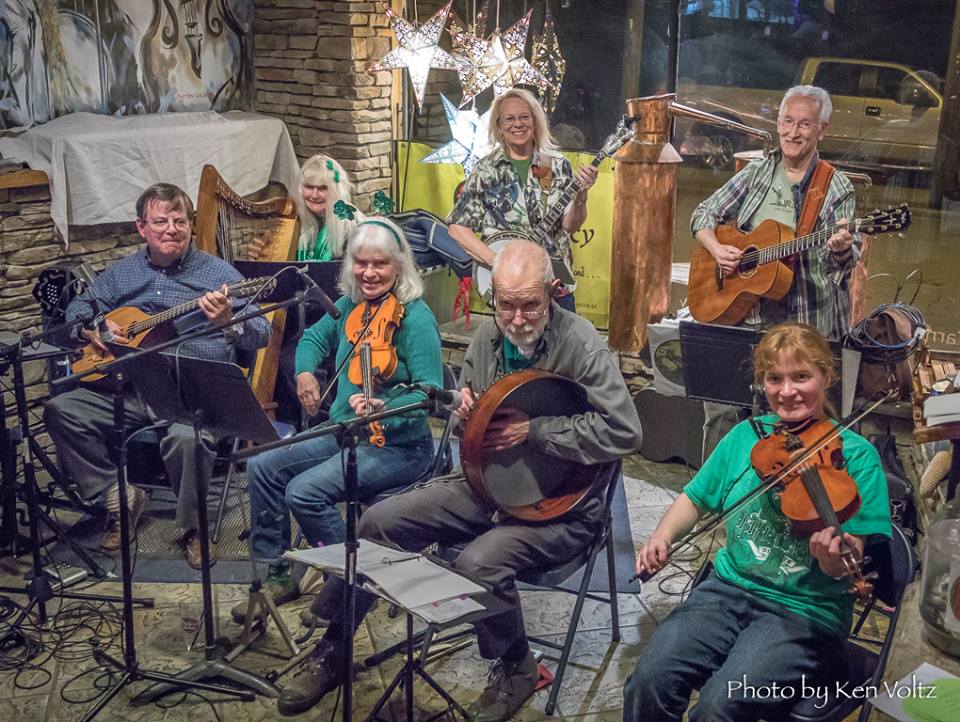 This was our second time playing on St. Patrick's day evening at The Phoenix and the Fox and it was even more fun that the first! It was basically standing room only through the "dining" set and continued to be crowded throughout most of the evening! The audience was appreciative, as usual, and everyone a great time. We've been asked about playing on the same date next year already!
Thanks to Ken Voltz for taking the nice picture above and to everyone else that came out to share their evening with us - let's do it again soon!
Mud Dabbers' Annual Open House: 12/10/2016
This was our fourth consecutive year to be asked to provide music for the Mud Dabbers' Annual Open House event and we jumped at the chance to play. We love this event because it is low key and we get to see and interact with so many of our friends and fans from all over the area. As usual, the room was crowded most of the time with people selecting their free ceramic mugs, sampling the hot apple treats and fresh-baked treat, watching the pottery demonstration and, of course, listening to the music! The weather was seasonable and not at all wet so the turnout was good. We had a great time and hope everyone else did as well.
Another friend of the band, Joyce Pearsalls, took a short video, available here and also provided the pictures from the event. Thank you, Joyce, very much!

---
Founders' Day at Transylvania County Heritage Museum: 09/03/2016
This was our third consecutive year playing this wonderful celebration of the County's historic beginnings and the weather could not have been better! There was a nice breeze, warm weather and lots of interesting exhibits to explore while the next musical group set up. We played about an hour set (starting early, if you can believe that) and still allowed the Road Apple Ramblers (and friends) about 15 minutes for their setup and sound check! The ausience was appreciative, as always, and the sound guys did a great job, as usual so it was a great day all the way around - we hope to do it again next year!
A friend of the band, Preston Woodruff, took a short video and posted it to Facebook - it can be viewed here for those interested. Thanks, Preston!!!
---
Lake Atagahi, Connestee Falls: 06/28/2015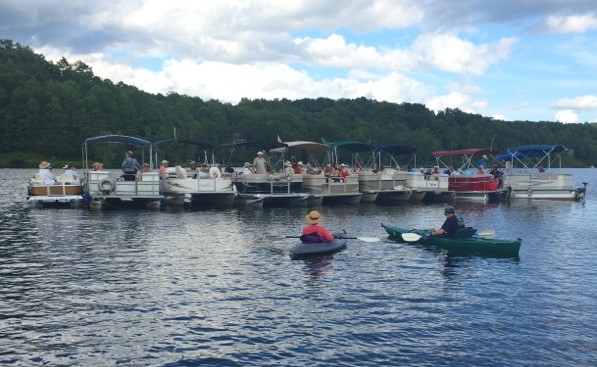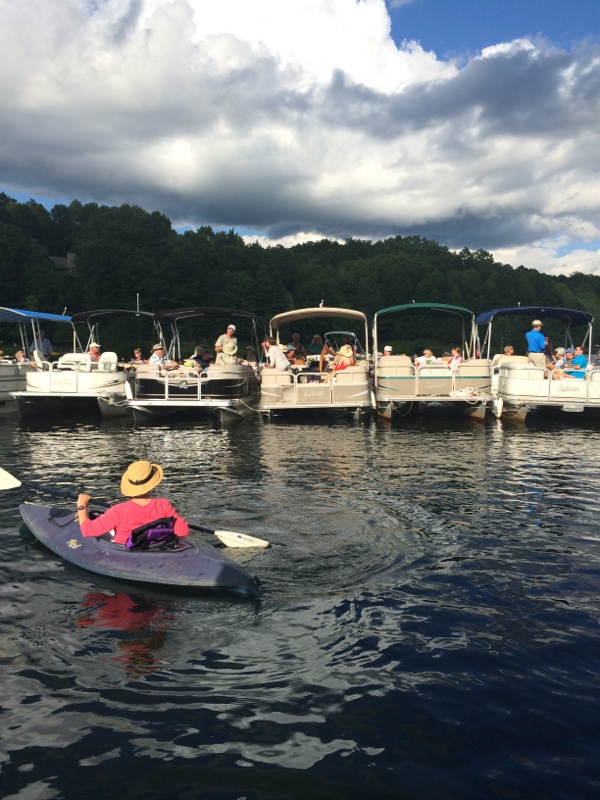 Wow! What a spectacular day out on the lake at Connestee Falls. I had originally thought this was just to be a "social" event on a couple of pontoon boats but once we got out on the lake and started playing other boats began to join us and tether up beside us. Kayakers began circling (had me worried there for a bit) and then tying up to join the party. In the end we had 9 pontoon boats and about half a dozen kayakers all together! And then there was the audience on the beach and banks of the lake with their lawn chairs and picnic baskets - in total, maybe the largest audience of our performing career!!! They were all very attentive and appreciative of our playing with cheers after every tune and calls for more echoing across the water.
After our break and second set we were ready to head for home so the colony untied and dispersed with vessels heading in all directions. Several of the kayaks shadowed us on our return voyage as we broke with the traditional Celtic tunes and began playing some of the standard old-time tunes we all knew; sort of "Cornbreak Conspiracy" mode, if you will... It was a great day with perfect weather, good music and great friends - we may have to do it again soon!!!
Thanks to Carol Panzner and Roger Witmer for the above pictures!
---
185 King Street: 05/21/2015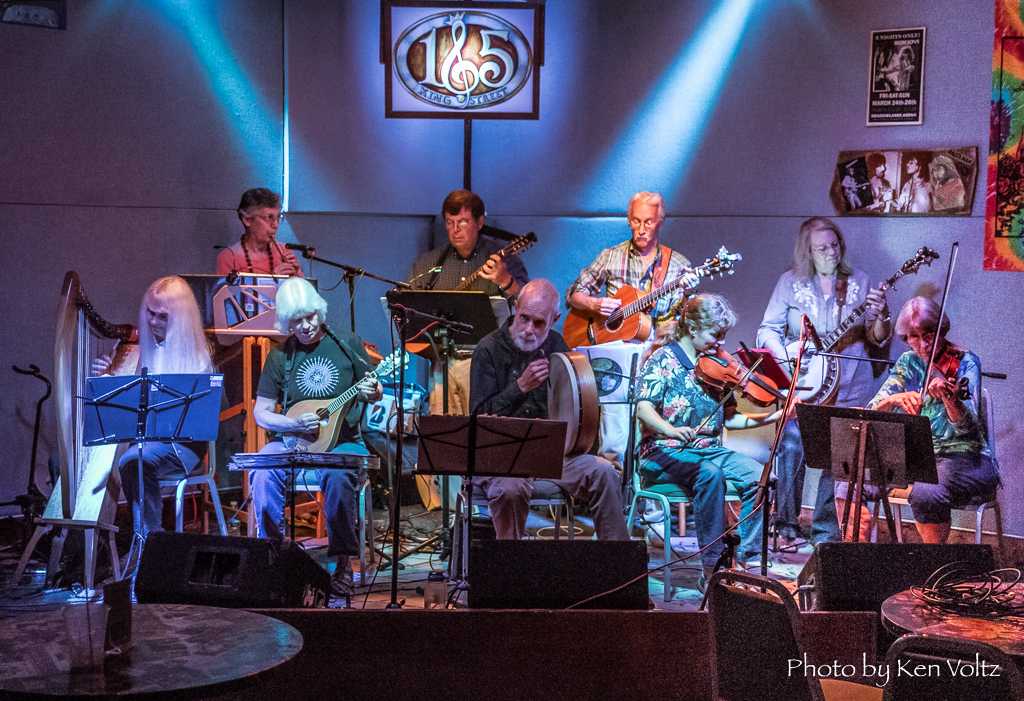 We enjoyed kicking off the White Squirrel Festival weekend by playing an intimate show at 185 King Street. We want to thank the fine folks at 185 King Street for making it a fun evening for all. Special thanks to Kristin Johns for booking us, to Jackson Wine for providing such a welcoming venue to play in and to the sound crew for making us sound good!!! For a peek at our performance there, we offer two short video clips here and here - enjoy!
Thanks to Roger Witmer for the two videos and to Ken Voltz for taking the picture of the group during the performance that you see above!
---
2014 Founders' Day Celebration: 8/30/2014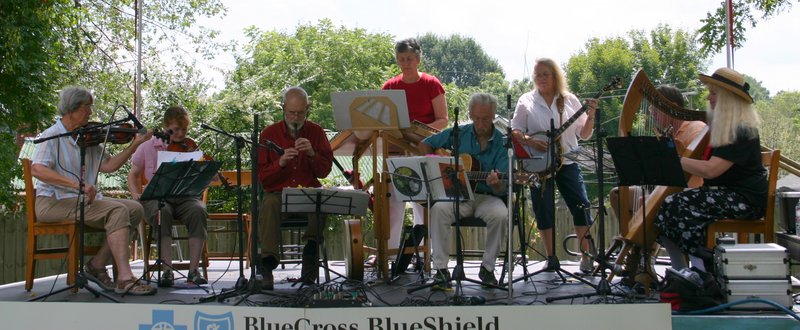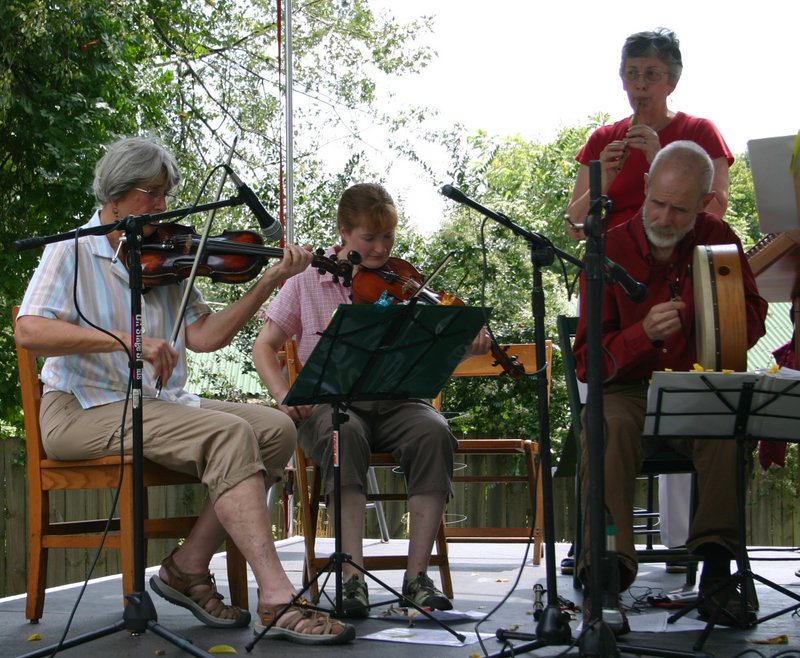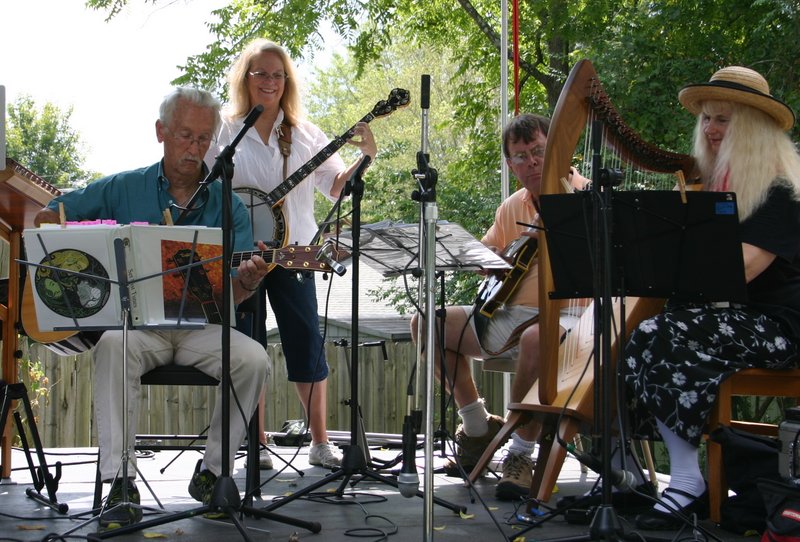 We were honored to asked to play agin this year for the Founders' Day Celebration at the Transylvania County Heritage Museum in downtown Brevard, NC. This annual event pays homage to the county's history and heritage by presenting reenactments of historic events, displaying crafts of the local artists, square dancing demonstrations and, of course, music from bygone years and times. By including the Celtic music we present the early heritage of what was later adapted by local musicians and past down from generation to generation usually by being taught the music without the aid of written scores or tabulature - just "by ear". Naturally, some of the melodies changed during this process; this is the music that is now known as "old-time".
Thanks to Rocky for taking the pictures of today's event - what great fun to be able to play music that has a history all of its own and all part of the history of Transylvania County!!!
---
2014 Taste Of Transylvania: 5/6/2014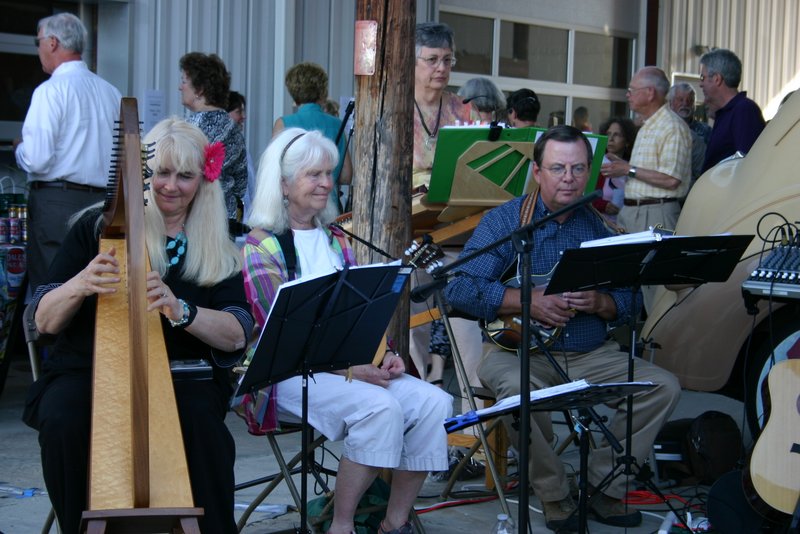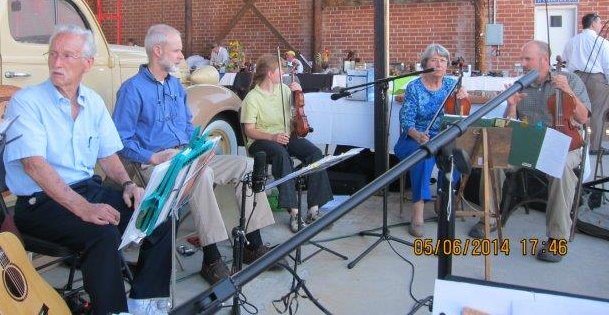 We were thrilled to be able to provide the music for the 2014 "Taste of Transylvania" where the best of the food providers in Transylvania County come to show off their talents, compete for honors in various food categories (best appetizer, entree, desert, etc.) and help raise money for education grants for the schools of Transylvania County. This year's even was held in the Brevard Lumberyard art district, adjacent to the Haen Gallery. Judging by the crowd that was there, it was another record year and we were more than happy to be part of the event and look forward to working with the event again.
This was an especially fun performance for us since we had the entire group together for it, including Susan McCann on flute and hammered dulcimer along with Celeste Carneal on Celtic harp. This quieter instruments add a lot of mood to many of the tunes we play so they were amplified (along with most of the rest of us) in an attempt to let them be heard. The results, however, were mixed - depending on where you were standing and how many conversations were going on close by...
Thanks to many of our friends who were there and stopped by to say "Hi" and offer encouragement (did I mention that it was a bit noisy?) - it was good to see you all even if we didn't get a chance to "chat"!
Also, many thanks to Rocky Rollins and Roger McCann for taking the time and effort to provide the pictures from the event that appear on this page...

---
Connestee Falls' Sharing The Season Benefit: 12/13/2013
This was our final performance of the year 2013 and we couldn't have picked a better spot! Located in front of the big fireplace of the Connestee Falls Clubhouse main lobby we were able to welcome all the people arriving for the evening's festivities. We were thrilled to have some of our former bandmates join us for this event; Susan McCann played flute, whistle and hammer dulcimer (love that sound) and Dave Abell sat in for Marisa Panzner/Martha LeGere on fiddle.
One side of the clubhouse was hosting the Silvermont Group while the other side was hosting the benefit for Brevard's Sharing House. It was fun to be able to provide a bit of festive music for these two, fine organiations. A few of the attendees even joined in and danced a jig or two as they moved through the lobby - now that's the spirit!!!
It was the perfect way for us to start the Holiday Season - playing music with good friends!!!
---
Mud Dabbers' Open House: 12/13/2013
It was another fun performance playing at Mud Dabbers' annual open house celebration this year. While the weather outside really sucked is was warm and cozy inside with warm apple cider and smiling faces all around. We played for about two hours and then turned the area over to "The Bold Grey Mares" string band to continue the fun. Good times with good friends!
---
Transylvania County Founders' Day: 08/31/2013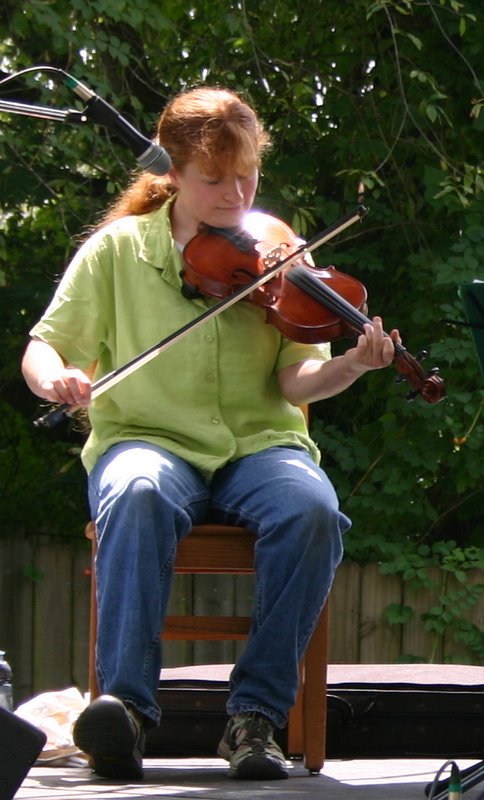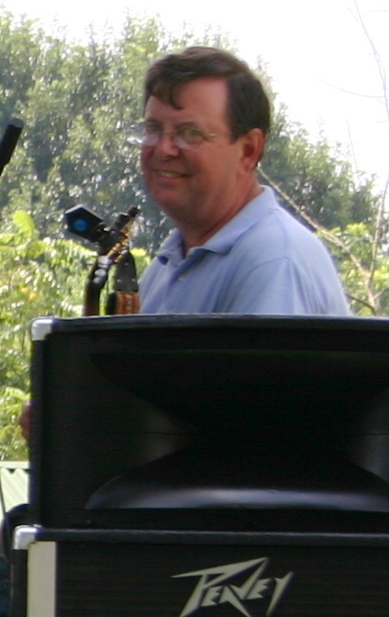 We had a great time at the 2013 celebration of Transylvania County's "Founders' Day" hosted by the Transylvania County Heritage Museum. in downtown Brevard, NC. We had a great audience filled with family, fans and friends and many who were not aware that Brevard had its own Celtic music band. They all seemed to enjoy our music and performance and joined in by dancing (yes, we saw you!) to the tunes they knew. It was a wonderful day with good weather and a warm, welcoming audience - it just doesn't get much better than that! We can't wait to do it again next year...
And a big thanks to Rocky for taking the pictures!!!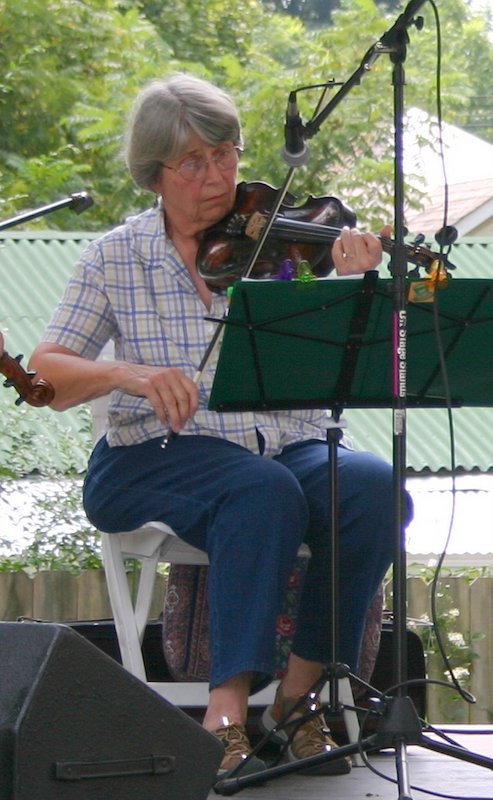 ...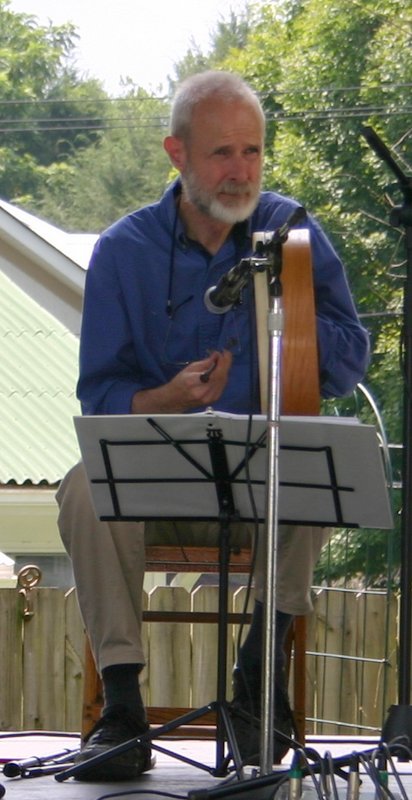 ...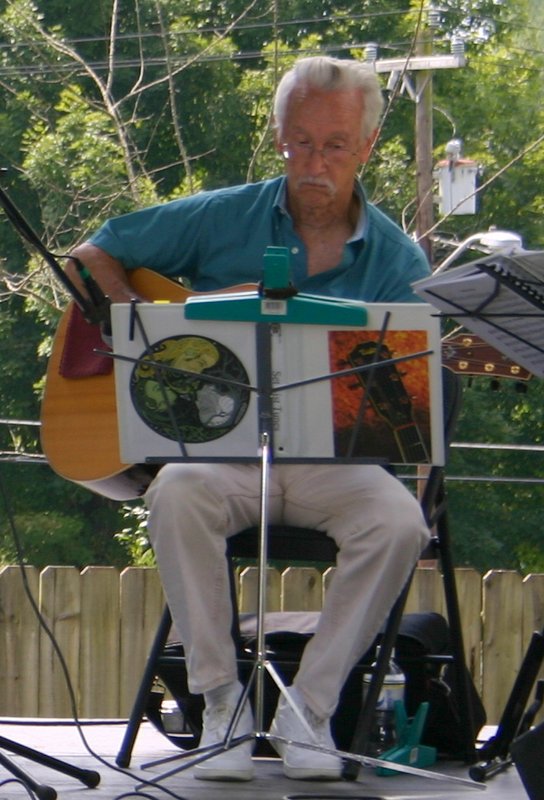 ---
Brevard Farmers' Market: 08/03/2013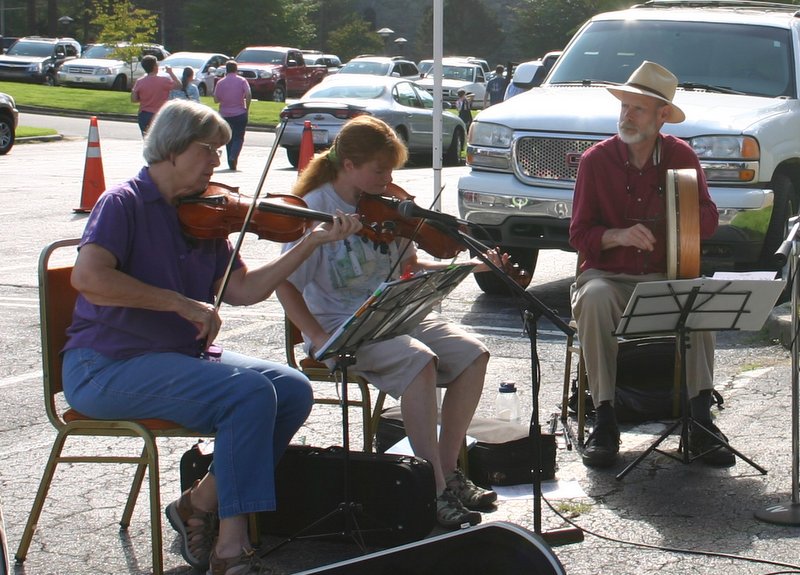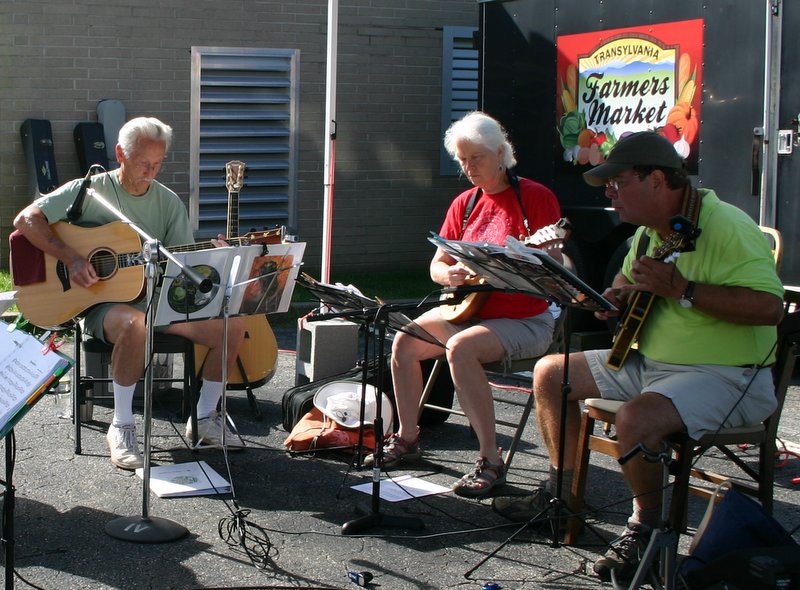 We enjoyed almost perfect weather and a welcoming crowd at the Brevard Farmers' Market this early day of August and presented a revised program including our tried and true tunes along with many we have been rehearsing since our last performance here in June! Sadly, some of our renditions were spontaneously modified with the accompaniment of cement saw and front-loader as the city works repair crew chased a water leak beneath the road adjacent to our location but, even with that, we had a great time. It was a busy day at the market with the parking lot filled to capacity and a corresponding crowd of customers keeping the vendors busy! Especially nice was seeing so many of our friends who stopped by for a while to listen and say "Hello" - that's what makes it all worth while. Even so, crowd, maintenance work and ongoing conversations, our guitar player managed to sneak in his 40 winks...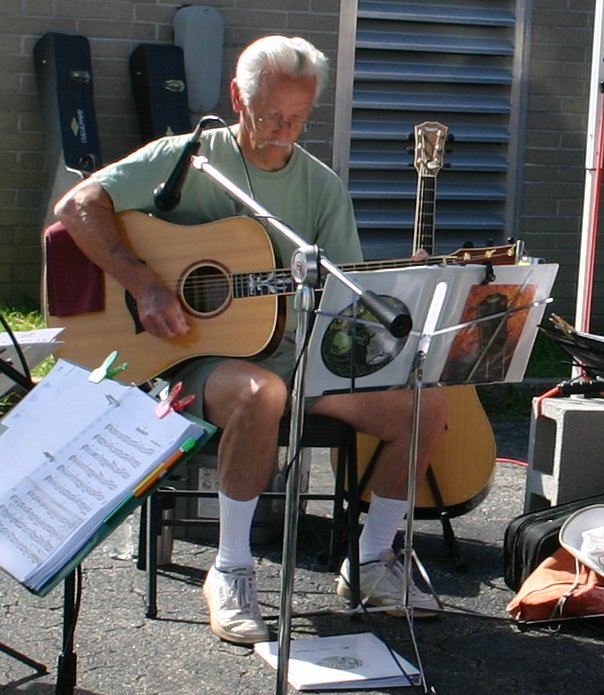 Next stop, "Founders' Day at the Transylvania County Heritage Museum on August 31st at 1:00pm - come see us again!!!
---
Roots Night at 185 King Street: 06/13/2013

We had a great time playing "Roots Night" at the 185 King Street Music Venue to a wildly enthusiastic crowd (they may have just wanted to be heard on the radio but it made for a great response, either way). It was a good night, overall, with only a few, minor miscalculations on the number of tunes to be played in each set but we simply threw back and grabbed for the gusto and were warmly rewarded by the fans of Celtic music. We want to thank all of you that showed up and encouraged us with your enthusiasm (the checks are in the mail) - it was really good to see so many familiar faces in the audience. For those that could not join us in person WSQL 1340 AM provided a live, streaming broadcast of the show and we have since heard from friends from Connecticut to Florida and California that it turned out great - we're really happy to hear that and hope you all enjoyed it as much as we did.
Our second set was followed by Paul's Creek Band who entertained the crowd with a lively mix of old-time favorites and several originals as well. It was a great night all the way around and we look forward to our next time when we can take more time and present a more complete program, as the music deserves. Thanks to Jackson Wine of 185 King Street and Michael Collins of WSQL radio for presenting us with this wonderful opportunity to share our music with all of you. Thanks as well to Rocky Rollins for providing the photographs from the evening (click on them to enlarge). We hope you enjoy them as well!!!
---
Brevard Farmers' Market: 06/01/2013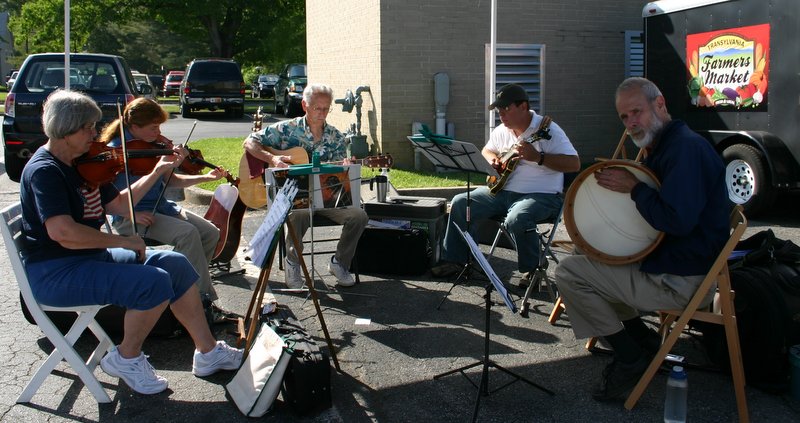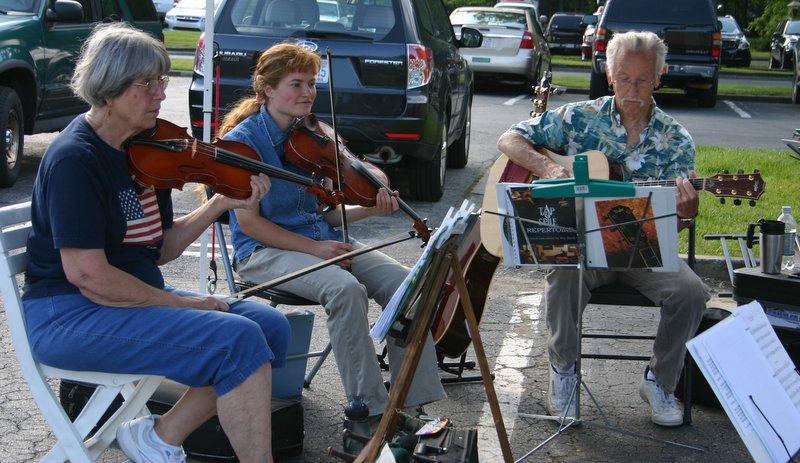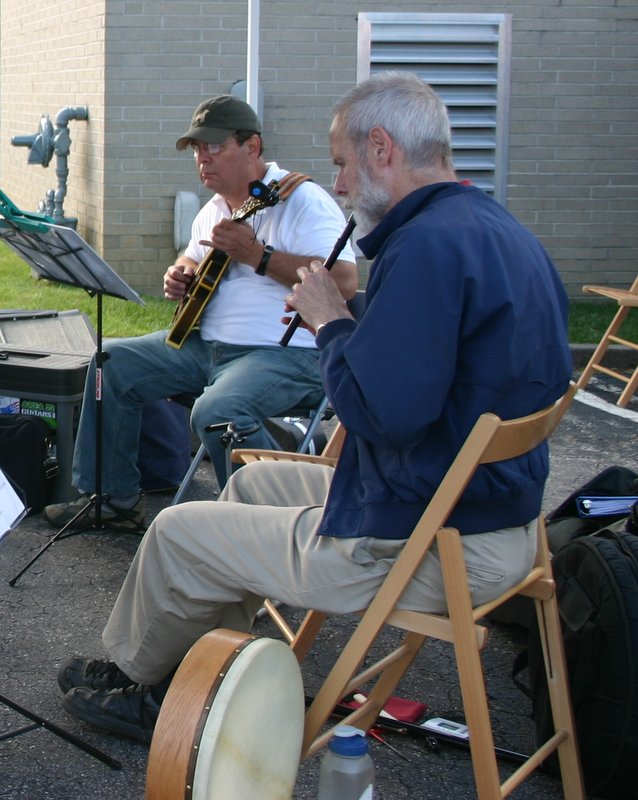 We enjoyed a lovely, late-spring morning at the Brevard Farmers' Market on June 1, 2013 and were greeted by many of our friends as they made their weekly produce and plant purchases from the many vendors there. The weather was just about perfect (I' for one, am not going to complain about the abundant sunshine and accompanying warmth) and it was great to see all the families out and about, enjoying the day. Just a great day with great weather and great friends; we also enjoyed having the presence of Rob Reinhold, a recent new resident of Transylvania County, playing mandolin. We had an ever-changing audience at the music tent and many of the younger ones burst into spontaneous dance to the music - that's why we do this in the first place, right?
If you weren't able to make it down to share the music with us at that event we hope you'll try to catch us at one of our later performances at one of Brevard's many musical venues. We're also going to be back at the Farmers' Market on August 10, 2013 so you can combine good music with a variety of other "treats" available in abundance at the market. Hope to see you there!!
---
Gallery Walk Friday at TC Heritage Museum: 05/24/2013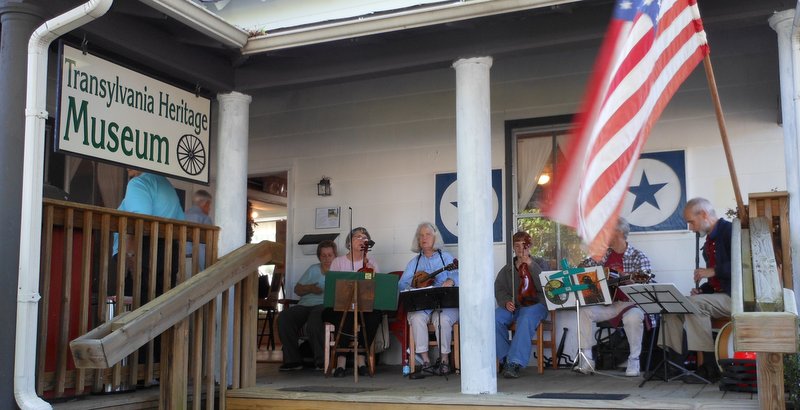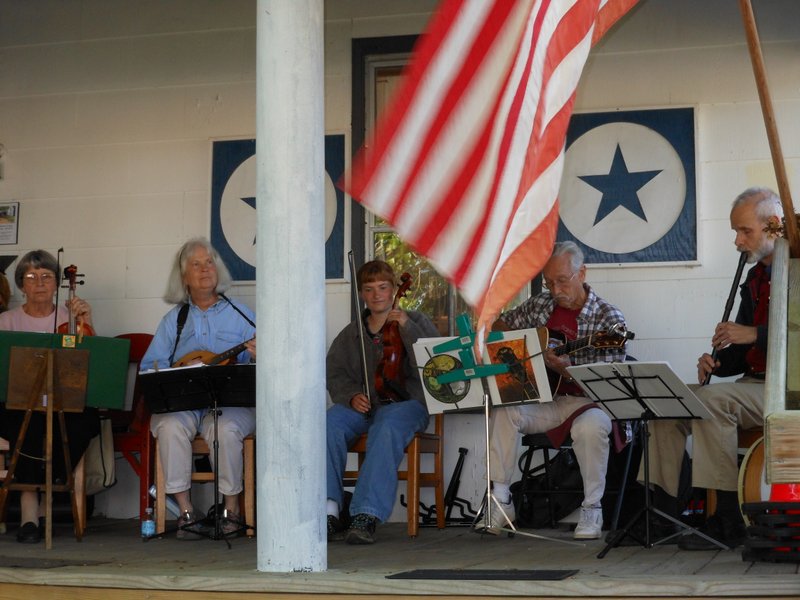 Celtic Conspiracy delivered a stirring set at the Transylvania County Heritage Museum for their May Gallery Walk open house event. We enjoyed an appreciative crowd and t more than one point were joined on stage by dancers. One, who shall remain nameless, was even accused of performing a "pole" dance as she moved effortlessly from side to side around the center pillar (sorry, no pictures were permitted of this spectacle). The weather was perfect and the event declared an unqualified success by all involved - we can't wait to do another one!!!
---
St. Paddy's Day at Oskar Blues: 03/17/2013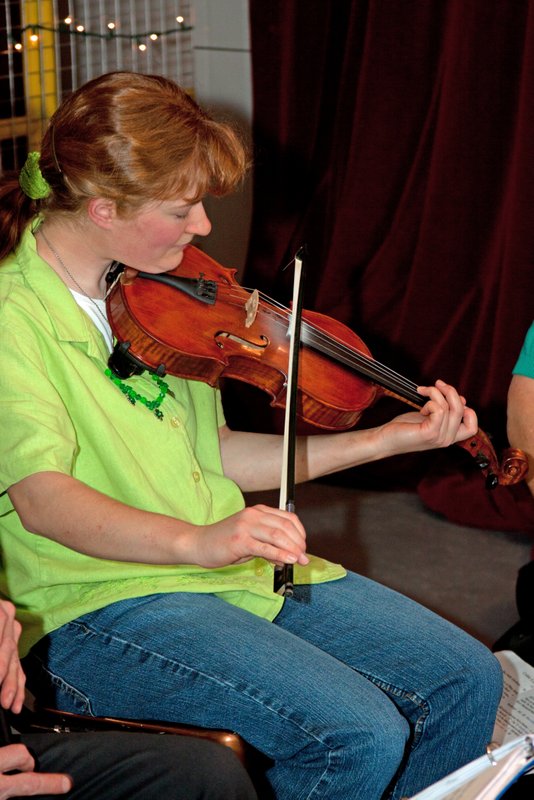 Well, we came, we played, we had a blast! The weather for the foot race in the morning was just perfect and some of the contestants even stuck around after the awards ceremony to listen to some Celtic music! They were joined by many of our friends (one of which, Preston Woodruff, provided the video clip that can be viewed here) and others that provided some of the photos you see on this page. We want to thank everyone for coming and providing an attentive and very appreciative audience - what a pleasant surprise! We were expecting a pretty rowdy crowd and you kept us on our toes the whole time! We hope you weren't disappointed.
We'd also like to thank Oskar Blues for inviting us to play for their first (annual?) race event and hope to become "regulars" playing in the pub room. For those unable to attend this year, boy did YOU miss a good time (and some good beer)!!!
Many thanks to Roger McCann for taking the splendid photograph above - well done!!!
---
We are thrilled to announce that Celtic Conspiracy will be playing at the Oskar Blues Tap Room in Brevard, NC on the coming St. Patrick's Day, Sunday, March 17, 2013 from noon until 3:00pm. We are very excited about having this opportunity to share our music with many who are probably unaware of our existance and welcome you all to come join us and share in the festivies. We want to thank Oskar Blues for their continued participation in keeping Brevard vibrant and alive - just like are music!!! If you're not sure what Celtic music is, then try out the smart-phone recordings from our last rehearsal session which include The Kerry Polka and The Road To Lisdoonvarna/Swallow Tail's Jig; they're not great recordings but it gives you a taste of the music. Come out and join us and let Oskar Blues give you a taste of their products as well!!!
---
Mud Dabbers Open House: 12/08/2012

On Saturday, December 8, 2012, we played at Mud Dabbers Pottery's annual open house party to a continuously changing audience that ebbed and flowed through the room as they selected ceramic cups, filled them with hot cider and listened to some Celtic music. They were enthusiastic and appreciative of the music and the time seemed to just fly by and, alas, all to soon it was time to give way to the following performers. If you have never attended one of Mud Dabbers open house events you should be sure to put it on your calendar for next year. It is an amazing gallery with works from a number of the local artists available for sale - and the cider cup you choose is yours to keep at no charge! Great pottery, great people and great music - what more could you want?



---
Brevard St. Patrick's Day Blockparty: 03/17/2012

Celtic Conspiracy enjoyed playing an evening of Irish tunes for the Brevard St. Patrick's Day Blockparty hosted by the businesses of Brevard, NC. Our host was the Brevard Antiques Mall on East Main Street who provided snacks and liquid refreshments for visitors and those of the band with a hunger or thirst. (I certainly didn't want to offend anyone by refusing their hospitality...) We had quite a few people stop by during the celebration, most were visitors/shoppers out for an evening of fun and some were friends we hadn't seen in a while so it was good to have a casual environment where we could chat between tunes.

It was a fun time for the band and, by the smiles and laughter of the groups that gathered during the music, the public in general. We hope this becomes an annual event and that we can share in the festivities and fun. Thanks to our hosts and to our "Maid Behind the Bar", Nancy. Happy St. Patrick's Day to you all!!!



---
Empty Bowls Event: 03/17/2012

The Conspiracy performed for the annual "Empty Bowls" benefit event for the Brevard Bread of Life Kitchen on Saturday, March 17, 2012. Over 400 bowls were made for this event with materials supplied by Mud Dabber's Pottery and were sold to attendees for $15 each - which included a soup & sandwich lunch! This is one of Brevard's finest events when it comes to giving back to the community as a whole. We thoroughly enjoyed ourselves playing for the event and loved watching the children dancing around the room to the music as we played. With any luck we'll do it again next year!
KOALA Perfomance: 02/27/2012

We were overjoyed to provide a program of Celtic Music for the attendees at KOALA in Brevard earlier today. This was the first public performance given by Celtic Conspiracy where all the members were present - and what fun it was! We want to thank the management and staff of KOALA for inviting us to play and appreciate the attentive audience who provided a wonderful show of appreciation with their continuing applause after each number. I'm not sure who had more fun here but we've been asked back and that can't be all bad! We're looking forward to it and hope they are as well - thanks again to everyone involved, especially Carole Panzer who took the picture above for us!



---
Celtic Conspiracy's Inaugural Event
We are pleased to announce that (most of) the band played our inaugural performance today at the Land of Waterfalls Art Gallery which hosted this years' Brevard College art students "get acquainted" event. The weather could not have been better as we enjoyed low-70s temperature and bright sunlight with just a hint of light breeze to keep things nice and spread the music evenly across the grounds. It was a real treat to see many of our friends and associates come by to say "hi" and participate in the introduction of the local arts community to this years students. there was good conversation, good art and (I hear) good brownies - while they lasted! The pictures here are from today's event and the full-size versions can be viewed by clicking on the images on this page and then using the "back" button of your browser to return from the full-scale image to this page.
In any event, we all had a good time and it seems a lot of the students and other attendees did too so we look forward to playing again in the coming year (though probably not outdoors for a while). Thanks to you all that came by to cheer us on - you make it worth while. Stay tuned for future news and notices!

---
All performance photographs on this webpage are courtesy of Rocky Rollins ...


Please remember that your comments and suggestions are always welcomed. We take requests; we don't promise to play them but we take them, none the less... Keep those electronic cards and letters comin', folks!

*8o)
Send comments to us at: CeltCon@comporium.net


Changes last made on: Tuesday, July 5, 2019 at 8:07am