Bozo's Guitar Collection - Visit to Bozo Podunavac
---
Welcome to Bozo's guitar web pages... if this is not where you intended to go, please exercise the "Back" arrow to return from whence you came. Otherwise...

Bozo's Guitar Collection - Bozo Podunavac Workshop Visit
The current "centerpiece" of my entire collection is my 1969 Bell Western six-string acoustic made by Bozo Podunavac; it's an unbelievably loud and resonant guitar and has aged well. I had wanted a Bozo for a long, long time but never had the opportunity to own one until 2004, when mine was offered for sale on eBay. My wife considered the item (and its price) carefully before saying to me, "I think you should buy it.". What a thrill it was to have such a wonderful instrument. This experience was later to be joined with yet another thrill - meeting Bozo Podunavac himself and having him inspect this piece of musical art he had created 35 years prior.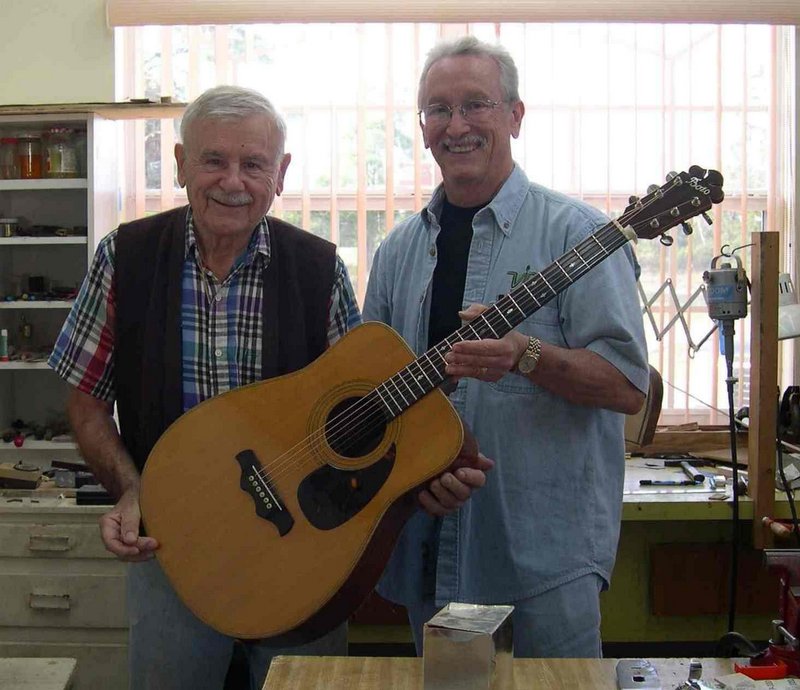 This fantastic event started when I decided to call Bozo at the number listed on his website (since revised. Bozo himself answered and I introduced myself and told him about my guitar. I then asked if it would be possible to have him inspect it and perhaps tell me anything he might remember about it or the era during which it was built. "Sure!", he responded, "Just give me a call when you want to come." So, on our way back home from a Christmas trip to my brother's home in Gainesville, Florida, we called and arranged to meet Bozo at his home in Port Charlotte.
When we arrived he was already in his workshop, finishing up with some of his current projects. I asked if it was alright if I took some pictures and he assured me it would be fine so I had Rocky take some of us and then I took some others as well. Bozo was most welcoming and freely spoke of his guitar-making philosophies as he inspected my guitar. It features Indian rosewood back and sides (he actually prefers it to Brazilian rosewood) with maple binding, German spruce top with "rope" purfling (not "herringbone", as many people call it), scalloped ivory nut (not original, according to Bozo)and saddle and general craftsmanship you don't see much these days except for high-end, boutique guitars. This is the guitar that Leo Kottke, Peter Lang, John Fahey, Bob Gibson and Rev. Gary Davis helped make famous. Since this model wasn't produced until 1968, this may be one of the earliest models and reflects that in its relatively "unadorned" appearance. (Bozo's later models became quite ornate and somewhat "festooned" with abalone inlay everywhere.) I actually like the more plain examples as it lets the guitar sound speak for itself and offers fewer distractions from that wonderful experience. It is interesting to note that this body shape is the marraige of the upper bout of a dreadnaught style and the lower bout of a jumbo style guitar. This is a very unique shape and has only recently been copied (to some degree) by the new Taylor GS body style. Bozo was way ahead of his time.
After the inspection of my guitar, Bozo showed us some of his current work, shown below.
Never thought I'd own one of these, though I'd lusted after one since the mid-60s - thanks, Rocky, for talking me into it! Truly a visit I won't soon forget!
---
I have seen Bozo since at the inaugural Newport Guitar Exposition in Miami, Florida and he remembered our visit and posed with me and some of the completed instruments he was working on when we visited him in 2005. These are real works of art that sound wonderful as well. Here are a few pictures for you to see the finished products.
---
So concludes the presentation of my visit with Bozo Podunavac at his workshop and the Newport Guitar Exhibition. Feel free to contact me with any questions and/or comments. *8o)


---
Send comments to: nobozos@citcom.net


Changes last made on: Monday, January 17, 2011 at 1:21pm